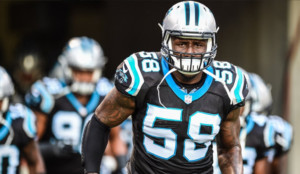 Legendary Panthers linebacker Thomas Davis recently announced plans to purchase Charlotte's second biggest football team – The Charlotte Thunder.
Davis posted a picture of himself and Ted Ginn Jr. over Charlotte's skyline to his 225,000+ followers with the caption:
"Some of you may have already heard he news but I'm super excited to announce that I am the new owner of the @charlotte_thunder Arena team! This is an amazing opportunity for us to bring some very exciting football to the Queen City while the Panthers are in the off season! Our season starts at the beginning of April so I'll see you guys there! #Thunder"
The Charlotte Thunder used to be called the Carolina Energy before undergoing a name change at the end of the last season. The team now plays in the American Arena League along with 9 other teams, mostly in the Southeast (the Carolinas have 2 additional teams besides the Thunder).
You can find out more about the Charlotte Thunder on their website here.
Comments
comments