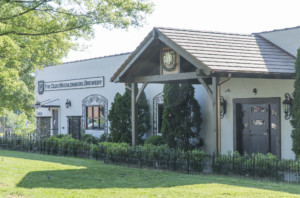 Two Charlotte breweries have just filed a constitutional challenge to a state law that limits local breweries from producing any more than 25,000 barrels per year.
Last month, the NC House passed HB 500, which initially increased the self-distribution production cap to 200,000 barrels annually, but that provision was taken out at the last minute. They also removed another provision that would have allowed smaller brewers to end their contracts with their wholesale partners without having to pay a fortune. According to HB 500's sponsor, Rep. Chuck McGrady, the N.C. Beer & Wine Wholesalers Association weren't willing to allow the NC House to pass the new bill with those provisions attached.
Olde Mecklenburg and NoDa breweries filed a joint lawsuit earlier today, in which they accused the state of North Carolina of engaging in "economic protectionism."
The lawsuit claims that North Carolina's distribution cap and franchise laws are unconstitutional and "artificially suppressing" the state's craft beer industry (now estimated to have an annual economic impact of $1.2 billion).
"First, North Carolina's 'Distribution Cap' punishes craft breweries for their own success by forcing them to hand over the rights to distribute their own beer to private distributors if they sell more than 25,000 barrels — a cap that is arbitrary and ensnares small but successful craft breweries," the lawsuit states. "Second, North Carolina's 'Franchise Law' forces craft breweries to enter into oppressive, one-sided contracts with distributors that literally last forever, and which require the breweries to turn over control of their product — including pricing — to the distributors."
It goes on to argue that "franchise laws leave the breweries powerless in an oppressive and illusory 'contractual' relationship with no recourse. Craft brewers who question their distributors' efforts face the real and legitimate prospect of the distributor intentionally ignoring that craft brewery's brand and promoting competing brands — effectively extinguishing the craft brewery's business. The craft brewery, meanwhile, has no remedy. Craft brewers have no choice but to submit to their distributors' will, or else face financial ruin."
What are your thoughts on the barrel cap for small breweries?
Comments
comments