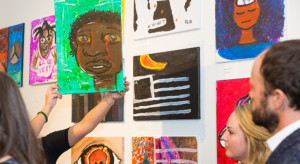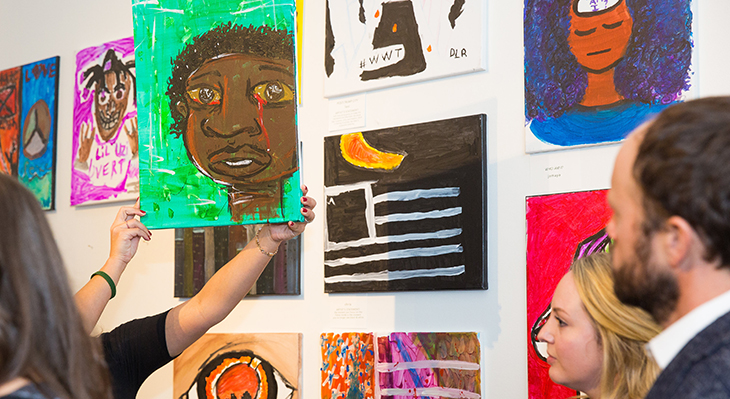 The Arts Council of York County is pleased to announce the allocation of Small Grant awards for the fourth quarter of the 2019-2020 fiscal year. Small Grants are available to individual artists, non-profit organizations, teachers and schools throughout York County. These grants are designed to support specific arts activities that promote the individual artist's professional development or career advancement and/or to support a wide variety of quality arts projects and programs that promote excellence in arts disciplines and make such disciplines accessible for general community-wide audiences.
Organizations and individual artists residing in York County, SC may request up to $1,000 per grant and may receive up to two grants each calendar year.
Recipients include:
Adult Enrichment Centers | $1,000
Mural | "We Grow Kindness"
The Adult Enrichment Centers are creating a public mural by artist Oscar Soto on the west side of the Rock Hill Center, located at 359 Park Avenue, Rock Hill, SC. The building, formally Henson's Grocery Store, is the Adult Enrichment Centers' largest Adult Day Health Center, known to many as Parke Avenue Day Care. Built of cinder block with a metal front façade, the building needs improvements to contribute to the curb appeal and neighborhood culture. An extensive refresh of the building began in May 2018 to address deferred maintenance and to improve the aesthetics for the 85-90 members who are enrolled for care. All the members are adults with developmental, intellectual, or physical disabilities, or adults who are aging with multiple chronic health conditions.
Soto's mural, We Grow Kindness, will be centered on the motifs of seeds and seasonal growth along with layers of text sourced from AEC's clients, employees, and extended community. The design concept is inspired by and aligned with the AEC logo that includes growth and development, represented by bright green leaves. This mural will create a welcoming, approachable environment for members and visitors to the facility. This Small Grant will be used for the artist fees and supplies needed to create the mural.  | 
http://www.adultenrichmentcenters.org
Old Town Association | $600
Public Art Project | Old Town Frogs
The Old Town Association hid 10 cement frogs created by Winthrop University student, Kasey Elizabeth Sears throughout the downtown area in early 2018. Inspired by the Come-See-Me Festival's Glen the Frog by Vernon Grant, each frog is based on an existing species of frog, ranging from a 12-inch Goliath Frog to a 2-inch Tree Frog. This Small Grant will allow the Old Town Association to coat the existing frogs in bronze, making them permanent fixtures in Old Town Rock Hill.   | 
https://www.onlyinoldtown.com/
Rock Hill Community Theatre | $900
Bye, Bye Birdie
The Rock Hill Community Theatre presents Bye Bye Birdie, June 2 – 29 and July 5 – 6, directed by Stephanie Daniels, featuring a cast of teens. Though this story was written six decades ago, today's youth can still identify with the teenage angst and idealism of the period. Teen idol Conrad Birdie has been drafted into the US Army, and his manager's girlfriend stages a publicity stunt, selecting one lucky girl to be serenaded and then kissed as the whole country watches the event on The Ed Sullivan Show! Dads and boyfriends are disturbed by the effect that Conrad's hip-thrusting style has on their loved ones. This show is a lighthearted way to look at the struggles we all have had as teens and as the parents of teens.
This Small Grant will allow the RHCT to work with MT Pit, which provides a fuller sound than just piano accompaniment.  | 
http://rockhilltheatre.org
J. Michael Simpson | $350
Microphones & Sound Mixer
J. Michael Simpson has been creating experimental videos based on events in nature since 2005. These works typically include sounds like the rush of a whitewater river or the clap of a thunderstorm. The built-in microphone of the camera cannot capture the complexity of sounds he seeks to include in his work. The microphones and sound mixer that Simpson will purchase using the funds from this Small Grant will be used to record sounds in nature for his current project, The Whether Station. This series of videos will focus on health and environmental choices. | 
https://www.jmichaelsimpson.org
South Carolina's Coalition for Mathematics and Science | $500
iMAGINE STEAM Festival
The iMAGINE STEAM Festival, fueled by Comporium, is designed to showcase career pathways in science, technology, arts, engineering, and math (STEAM) through fun, hands-on learning and stage performances. The purpose of this free street festival is to ignite the interest of families across York, Chester, and Lancaster counties in STEAM learning and careers. For the 2nd year, the festival will occur in Old Town Rock Hill around Fountain Park. The Small Grant will be used for the audio/visual services needed for stage shows and for marketing and promotional materials. | 
https://www.imaginesteamsc.org/rockhill/
Women's Art Initiative | $1,000
"Technology: Past, Present, and Future" Mosaic Sculpture
The Women's Art Initiative has contracted with Carrie Gault to create an outdoor mosaic sculpture on Elk Avenue, in front of the Comporium Telephone Museum. The design will depict technology for the past, present, and future.
This work of art is composed of several figures standing around gazing at a glowing sphere. Made with fiber optics, the sphere represents all the potential held in the future of technology. The sphere is held by a teacher who is surrounded by her students who represent different technological eras. The mosaics adorning the figures will include information and imagery of Rock Hill from each time period they represent. This Small Grant will be used to pay the artist for her time and materials. | 
https://womensartinitiative.org
Total Allocations This Quarter: $4,350
To review guidelines, visit 
www.yorkcountyarts.org
 on the Grants page under The Arts heading. The next deadline is Sunday, September 1, 2019 at 5 PM for programs occurring October, November, and/or December of 2019. Prospective applicants MUST discuss the proposed project with the Executive Director at least 10 days in advance of the application deadline date. Should the deadline fall on a holiday or weekend, grant applications are due the last business day prior to the deadline.
This Small Grants program is funded in part by the South Carolina Arts Commission (which receives funding from the National Endowment for the Arts), and the John and Susan Bennett Memorial Arts Fund of the Coastal Carolina Community Foundation, and Comporium Communications.
Comments
comments