According to the NC Department of Marine Fisheries, 9 yr old Teddy Wingfield just caught the largest 'scamp' fish in history off the North Carolina coast.
The fish spanned a total length of 43 inches (tip of the nose to the tip of the tail) and measured approx. 28 inches around the widest point of the fish.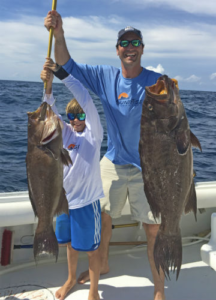 It weighed in at 32 pounds, which topped the previous state record of 27 pounds, 1 ounce. That fish was also caught off Atlantic Beach back in 2012.
The current all-tackle world record scamp is 29 pounds, 10 ounces and was caught off Dauphin Island, Alabama in 2000, the NCDEQ reported.
Wingfield's catch beats the world record by 2 pounds, 6 ounces.
The scamp grouper (Mycteroperca phenax) is a protogynous grouper, also known as the brown grouper or abadejo. It is normally found in reef over ledges and high-relief rocky bottoms in the eastern Gulf of Mexico and at low-profile bottoms at depths of 30 to 100 m in North Carolina.
This may be the world's biggest scamp, but doesn't even compare to some of the monster catfish that anglers have recently been catching in Lake Norman.
Comments
comments