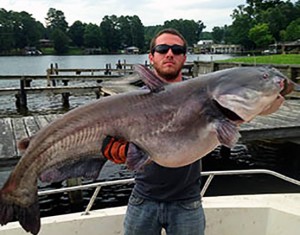 Lake Norman is known for its incredible spring fishing, but lately locals have been catching some truly monster catfish, even with all the increased boating activity. Many are attributing this to the low water levels around the lake.
A recent article by the North Carolina Sportsman details some powerful tips on how to catch some of the biggest monsters in the lake, "…knowing how to use your boat's electronics is one of the biggest factors when trolling for catfish."
Local fishing guide Jerry Neeley also describes "what he calls a "Santee rig," which consists of a 1-ounce weight made with parachute cord, a 14-inch leader, and an Eagle Claw 4/0 hook."
He also recommends fishing in 30 to 40 feet of water, and focusing on creek mouths and along depth changes along the flats.
Here's a Lake Norman catch caught on video by Mac Byrum and son from a couple years ago;
Check out Fishing Hot Spots for some of the best spots to try to catch the big one on Lake Norman.
Please share;
Comments
comments