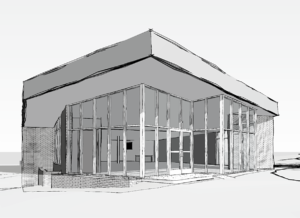 Petit Philippe, the popular wine and chocolate tasting room that's been a Selwyn Ave. staple for a decade, is heading to new terroir. The husband-and-wife business owners, Mark Meissner and Casey Hickey, bought the stand-alone building at 4001 Park Rd. and are working to turn it into their new and expanded emporium.
The planned opening date is summer 2022. Until then, business continues as usual at both Petit Philippe and Twenty Degrees Chocolates' South End shop at 1930 Camden Rd. The couple will consolidate the Selwyn Ave. operations – the retail shop and wine storage service – into the Park Road space when those leases expire. Hickey will continue to run her 500-square-foot South End "jewel box" chocolate shop, which she opened in 2019, after the new Petit Philippe opens.
The 4,960 square-foot building gives them nearly 2,000 more square feet than their current locations. And they'll own the building. "Our goal has always been to own the building that houses our business," Meissner said. "We've been on the lookout for years but finding the right single-occupancy building has been a challenge."
Hickey added, "This building checks all our boxes and then some. We get to stay in this neighborhood we love and expand our wine and chocolate businesses. There's more retail space, more space to enjoy a glass or flight of wine and – the thing we might be most excited about – an exquisite, underground space for special events."
The future home of Petit Philippe, at the corner of Park and Reece Roads, was built in 1962. The building has always housed a dry cleaner – first, Coachman Cleaners and more recently, Park Road Quick Cleaners.
"We are fans of the mid-century modern aesthetic and were drawn to this building's architecture and design that are typical of the era," Hickey said.
Meissner added, "To our surprise, the building's design lends itself to all our needs, including wine storage. The lower level is dimly lit with temperature that naturally doesn't fluctuate much. We'll install more climate controls, but the cellar's cave-like quality gives us a head start."
The cellar/lower level will be devoted to concierge wine storage and offer state-of-the-art, climate-controlled cellars for rent as well as special event space for hosting exclusive winemaker dinners, wine education and regular wine storage client tastings.
The new space will allow for focused wine events and on-site classes in a unique, private setting. And one of the most customer-friendly aspects of the space is the more than 22 parking spots that come with it.
Buying the building – and expanding their presence – is the culmination of a dream for Hickey and Meissner, who have wanted to grow both businesses but were constrained by square footage. "We love our space at Tranquil Court," Hickey said. "But the new space is better suited for e-commerce fulfillment. Despite high demand, our e-commerce growth has always been stalled by space limitations."
The Park Rd. location offers the entrepreneurs increased efficiency, too. Their core operations, including an expanded kitchen, can now be housed in one location. (Currently, they lease space at 2904 Selwyn Ave. for La Cave at Petit Philippe, a wine storage service they opened in 2016.)  Petit Philippe will expand current offerings while introducing new ones, including outdoor seating and coffee service.
The project architect is Sean DeLapp, a principal at WGM Design. Edifice is serving as general contractor. Hickey, who was formerly the marketing director for an architecture firm, has a keen interest in mid-century modern design. "Whenever possible, the updates we make will be true to the era," she said. "We intend to preserve the building's design and character and put a modern spin to the mid-century vibe that already exists."
Every building system will be replaced but much of its design – including exposed steel trusses, concrete floors, a sloped roof and deep overhang – will be preserved.
TowneBank is providing project financing. The deal closed May 11 and construction is set to begin in December. Greg Simmons, business development officer at Business Expansion Funding Corporation (BEFCOR), assisted with SBA loans through the U.S. Small Business Administration.
Comments
comments