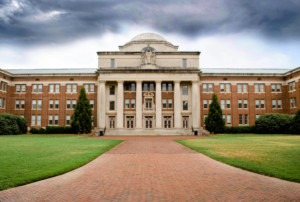 Choosing what to study in college is one of the most interesting and exciting steps in any student's growth, and is one that should not be done without careful consideration. For students who've come to the conclusion that they wish to continue the next stage of their education in Charlotte, the options for University are plentiful. Students among these who wish to pursue a degree in philosophy may be wondering what their best options are when it comes to colleges in Charlotte. 
Here we've put together a little guide to navigating the considerations and options involved when it comes to pursuing an education in philosophy in Charlotte, North Carolina. 
The subject: is it right for me? 
With so many options when it comes to subjects to study, students would be right to carefully reflect on whether they're making the right decision. Asking yourself what you enjoy in your day-to-day life can be of great aid when it comes to enlightening the path to a fulfilling career. If you find yourself pondering life's mysteries and engaging with philosophical theories in your free time, this is a great indication that the subject has a substantial appeal for you and that you won't lose interest in your studies. 
However, there can often be a substantial difference in how we react to a subject when presented with it in a recreational context versus an educational one. Not everybody who enjoys a hobbyist interest in a topic will enjoy writing about it in a formal classroom environment. 
Before committing to any field of study in such a way, it's always a good idea to see how the subject looks in a university environment. Students weighing the choice of whether or not to study philosophy should go through philosophy essay examples to see the kind of work they would be expected to produce. Researching individual college curricula and checking out essay examples about philosophy should give a sense of clarity as to whether to make philosophy a full-time intellectual commitment. 
Charlotte: is it right for me? 
Where exactly we choose to study has a big impact on our student experience, so it's important to know the facts about any location you're considering. Charlotte is the most populous city in the state of North Carolina – it's currently home to over 885,000 people and is the third-fastest growing city in the whole United States! 
Charlotte is known for being a big city with a small-town feel, boasting many sports teams and cultural centers for arts and music that are sure to have something to offer to everyone. The city ranks well in terms of standards of living and quality of life, and the educational institutes perform above the national average. 
What are my options? 
If both the subject and the city seem like the right fit for you, you have to consider your specific options when it comes to pursuing a philosophy degree in Charlotte. Fortunately, there are several great options for colleges in Charlotte that you can pick from to ensure the education that's right for you. 
The University of North Carolina at Charlotte:

UNCC

is a public research university and is the largest educational institute in the region – with around 30,000 students altogether! It was founded in 1946 and boasts three high-quality campuses – one of which sits upon 1000 acres of peaceful woodland. The University is notable for its diversity, as students hail from 45 of 50 states, and over 100 countries. UNCC currently offers students the choice of two entire degrees dedicated to philosophy. 

Queen's University of Charlotte:

Queen's University is a private university located in the uptown area of Charlotte. Founded in 1857, the college was originally a women's institute but began opening its doors to male students in 1987. Queen's University is a good choice for those looking for the small college campus experience, while still having access to a vibrant city. This Presbyterian college offers students the opportunity to obtain a degree in philosophy. 
Taking this guide as a starting point, you can consider whether the exciting field of philosophy is right for you and whether the vibrant and growing city of Charlotte seems the right setting in which to pursue that degree and live out your college years!
Comments
comments