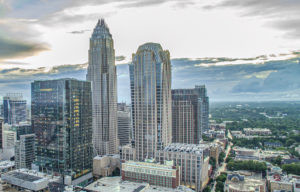 North Carolina's leading industries at one point in time were textiles, tobacco, and furniture. However, the state's top business industries have changed beyond recognition in the last few decades. Currently, 13 Fortune 500 companies operate out of North Carolina.
The state is now home to various industries that are growing, stable, succeeding, and innovative. This is due to a diverse, well-educated, and skilled workforce, coupled with low tax rates. Let's have a look at what are the biggest industries in North Carolina.
1) Automotive and heavy machinery
There are hundreds of automotive companies operating in North Carolina. They provide automotive components like transmissions, brake systems, engines, and trim and finishing trim for interiors of vehicles.
Some large companies that do business here are Freightliner, Borg Warner, Caterpillar, and Bridgestone, to name a few. These businesses get support from professional research centers and programs such as the North Carolina Center for Automotive Research (NCCAR), which specializes in automotive product research, testing, and development.
2) Information technology
North Carolina is home to small startups as well as established names in Information Technology (IT) such as Cisco, IBM, and Google because of low taxes and an active entrepreneurial community. In fact, Raleigh, the state capital, has been ranked as arguably America's No.2 tech hub because of plentiful job opportunities and the low cost of living. Fresh graduates looking for a career in IT can take advantage of top resume writing services to develop a resume that will help them get that all-important first job opportunity.
3) Aerospace and defense
North Carolina has some major military installations like Fort Bragg-Pope Army Airfield, Marine Corps Base Camp Lejeune, and Seymour Johnson Air Force Base. As a result, thousands of skilled and trained military veterans work here.
Furthermore, the state is also home to established and well-known aerospace companies like Honeywell, Spirit AeroSystems, GE Aviation, and Lockheed Martin that carry out their business here. In fact, in 2018, North Carolina jumped into the top 10 of the most attractive US states for aerospace manufacturing. 
4) Food processing and manufacturing
North Carolina happens to be the second-largest US state for food and beverage processing having around 1,000 businesses that operate in this industry. Some well-known names in this industry sector that operate in this state are Sierra Nevada, Smithfield, Butterball, and Campbell's.
Familiar food brands operating in North Carolina are Mt. Olive and Texas Pete. With the help of the N.C. Department of Agriculture and Consumer Services, North Carolina is one of the principal backers in the food and agriculture industries by providing research and support to environmental protection activities and assisting in promotional and marketing activities.
5) Furniture
North Carolina has a long history of being a hub of US furniture production, and this remains the case even in the 21st century. More than 600 wood product and lumber businesses operate here, including household names like Sealy, Lexington Home Brands, Ashley Furniture, and Ethan Allen.
The state is home to the largest furniture industry in the US, with more than 35,000 employees working in 3,000 establishments. North Carolina also hosts the High Point Market, the largest trade show globally for the furnishings industry. More than 75,000 visitors come to High Point twice a year and engage with more than 2,000 visitors from over 100 countries.
6) Pharmaceutical and biotechnology
North Carolina is ranked no.1 in the US when it comes to pharmaceutical and biotech manufacturing if you consider the total number of employees.
Renowned businesses such as BASF, Novo Nordisk, LabCorp, and Bayer operate in this state. Such companies get the support of various industry partners like the North Carolina Research Campus located in Kannapolis.
The 350-acre campus hosts collaborative research and product development in nutrition and health in conjunction with eight universities.
Comments
comments