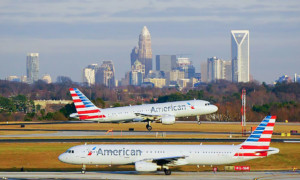 North Carolina has just jumped into the top 10 most attractive states in America for aerospace manufacturing, landing at #4 on PricewaterHouse Cooper's recent Aerospace Manufacturing Attractiveness Rankings.
We jumped up a full 10 spots from our previous #14 ranking after showing a significant improvement in our labor costs, corporate tax structures, and infrastructure. The full analysis looks at a wide range of factors including; labor force, roads, economy, population, education, and quality of railroads and seaports.
We landed just below Arizona and just above Virginia and Ohio;
According to the report, "The birthplace of aviation climbed 14 spots to rank as the fourth-most attractive state in this year's study. North Carolina had the fifth-best Economy metrics, the sixth best Industry metrics, and above average Tax Policy (it has the lowest corporate income tax rate in the US). With respect to Infrastructure, the state benefits from deep-water seaports, an extensive rail network, and low electricity rates. In Industry, the state has strong aerospace sales, margins, and maturity and is considered to have the largest manufacturing workforce in the Southeast.
The Economic Development Partnership of North Carolina notes the state has lower labor costs than traditional aerospace hubs, such as California and Washington, and the second lowest unionization rate in the US. A recent indication of the state's appeal is that Los Angeles-based DAE Systems will be relocating to North Carolina, investing more than $6.8 million over the next three years."
Our state is already home to some major aerospace manufacturers, including; Greensboro-based Honda Aircraft Co, HAECO Americas and Rockwell Collins – hopefully now with this improved ranking, we'll attract even more to our state.
The US ranked #1 in the world for the 4th year in a row, featuring a total of 1,710 aircraft, engine, and parts manufacturing companies and $212 billion in annual revenue. Ranking just under the US is Switzerland, United Kingdom, Australia and Canada.
Comments
comments