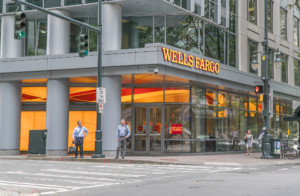 Wells Fargo was hit with a $1.7 billion civil penalty and a $2 billion consumer compensation package for a range of "illegal activities". This penalty is the result of one of the biggest investigations ever conducted by the Consumer Financial Protection Bureau and the Office of the Comptroller of the Currency.
"Wells Fargo's rinse-repeat cycle of violating the law has harmed millions of American families," said CFPB Director Rohit Chopra in a press release. "The CFPB is ordering Wells Fargo to refund billions of dollars to consumers across the country. This is an important initial step for accountability and long-term reform of this repeat offender."
The illegal activity includes, but is not limited to: creating millions of fake accounts without customers' consent, charging illegal fees on mortgage products, and wrongfully foreclosing on homeowners.
This penalty officially amounts to the largest ever imposed on a financial institution.
Consumer banking giant Wells Fargo agreed to pay $3.7 billion to settle a laundry list of charges that it harmed consumers by charging illegal fees and interes…

— Inevitable Bitcoin (@ReuScherf) December 20, 2022
Under the settlement agreement, Wells Fargo agrees to pay $500 million to the CFPB, $500 million to the Office of the Comptroller of the Currency, and $2 billion to customers who were wrongfully charged fees, had their homes wrongfully foreclosed upon, or had accounts opened without their consent.
It also requires Wells Fargo to reform its practices and implement a comprehensive compliance program. This program must include measures to ensure that the bank is complying with consumer protection laws and regulations.
The settlement agreement marks the latest in a long line of legal and financial issues faced by Wells Fargo. In 2016, the bank was fined $185 million for its fake accounts scandal and was also forced to pay $142 million to settle a class action lawsuit.
Comments
comments