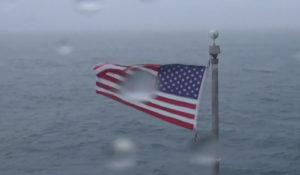 With Hurricane Dorian now predicted to make initial US landfall in North Carolina's outer banks on Friday morning, our Governor has declared a state of emergency and has evacuated all barrier islands.
You can now watch the winds increase as the storm blows up the East Coast via North Carolina's live Frying Pan Cam;
According to Explore.org, the Frying Pan Cam is a streaming live camera that's been permanently attached to the Frying Pan Tower, 34 miles off the coast of Cape Fear, NC.
The Frying Pan Tower was originally built in the 1960s to warn ships of the shallow waters nearby, but since the spread of GPS navigation, the tower now serves as a platform for the live camera and an important ecosystem for local marine wildlife.
UPDATE 9/5/2019 8:00am:
At 800 AM EDT (1200 UTC), the eye of Hurricane Dorian was located directly off the coast of Charleston, moving toward the north-northeast near 8 mph (13 km/h). A turn toward the northeast and a faster forward speed is forecast tonight and tomorrow n Friday. The center of Dorian will continue to move close to the coast of South Carolina today, and then move over the coast of North Carolina tonight and Friday.
Maximum sustained winds are near 115 mph (185 km/h) with higher gusts. Dorian is a category 3 hurricane. Some fluctuations in intensity are expected this morning, followed by slow weakening. Dorian is expected to remain a hurricane through the weekend.
Hurricane-force winds extend outward up to 60 miles (95 km) from the center, and tropical-storm-force winds extend outward up to 195 miles (315 km).
Comments
comments