UPDATE 9/5/2019 8:00am:
At 800 AM EDT (1200 UTC), the eye of Hurricane Dorian was located directly off the coast of Charleston, moving toward the north-northeast near 8 mph (13 km/h). A turn toward the northeast and a faster forward speed is forecast tonight and tomorrow n Friday. The center of Dorian will continue to move close to the coast of South Carolina today, and then move over the coast of North Carolina tonight and Friday.
Maximum sustained winds are near 115 mph (185 km/h) with higher gusts. Dorian is a category 3 hurricane. Some fluctuations in intensity are expected this morning, followed by slow weakening. Dorian is expected to remain a hurricane through the weekend.
Hurricane-force winds extend outward up to 60 miles (95 km) from the center, and tropical-storm-force winds extend outward up to 195 miles (315 km).
UPDATE 9/3/2019 11:00am:
This morning at 11am, the National Hurricane Center released the following update:
"At 1100 AM EDT (1500 UTC), the eye of Hurricane Dorian was located near latitude 27.1 North, longitude 78.6 West. Dorian is moving toward the northwest near 2 mph (4 km/h), and a slightly faster motion toward the northwest or north-northwest is expected later today and tonight. A turn toward the north is forecast by Wednesday evening, followed by a turn toward the north-northeast Thursday morning. On this track, the core of extremely dangerous Hurricane Dorian will gradually move north of Grand Bahama Island through this evening. The hurricane will then move dangerously close to the Florida east coast late today through Wednesday evening, very near the Georgia and South Carolina coasts Wednesday night and Thursday, and near or over the North Carolina coast late Thursday and Thursday night."
Due to the Westward shifted forecast, "THE STORM SURGE WATCH HAS BEEN EXTENDED NORTHWARD TO CAPE LOOKOUT NORTH CAROLINA."
According to Ventusky.com, the eye-wall of the storm is shown making initial landfall near Wilmington, NC at around 5pm on Thursday evening;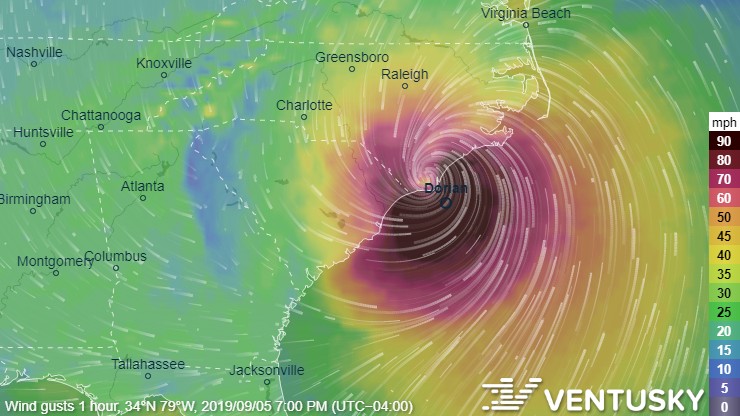 Several areas around Myrtle Beach and Wilmington are are now expected to see storm surges in excess of 9 feet within the next 3 days;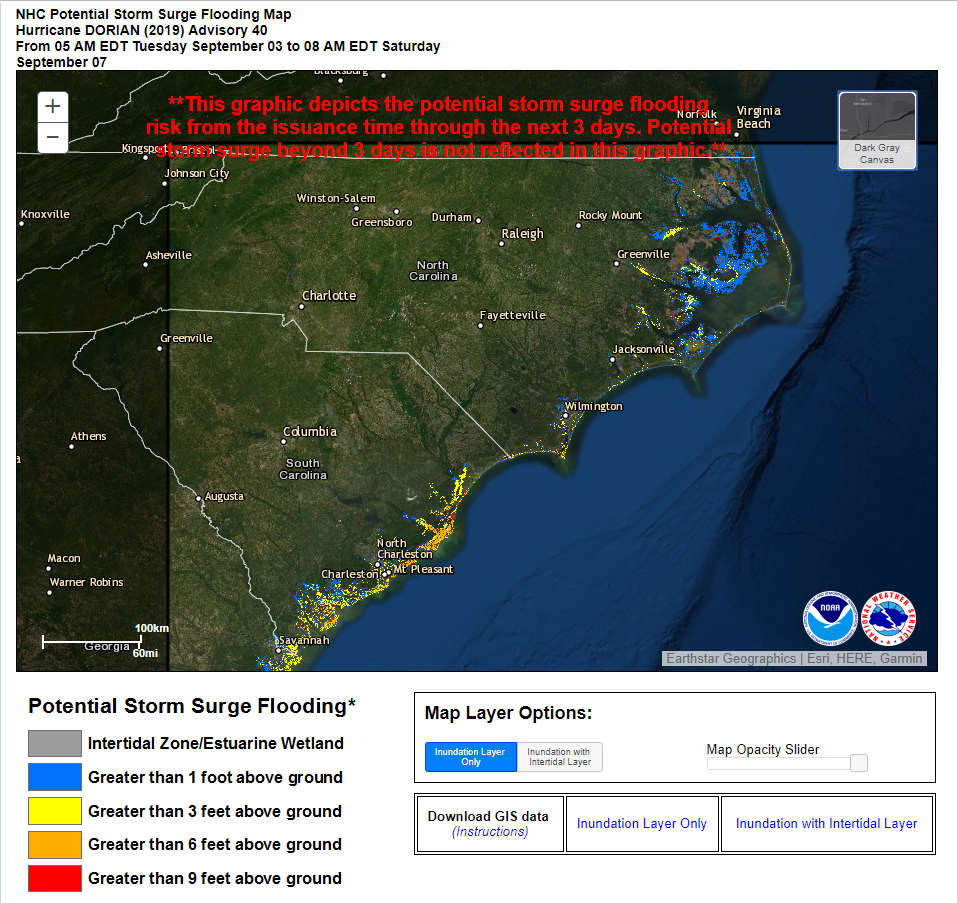 UPDATE 9/1/2019 2:00pm:
The historic Category 5 Hurricane Dorian just made landfall in the Bahamas with 185 mph sustained winds and gusts over 220 mph in Elbow Cay, Abacos.
"This is tied for the strongest Atlantic hurricane landfall on record with the 1935 Labor Day hurricane," according to the National Hurricane Center. The storm is now producing 18 to 23 feet storm surges with even higher waves.
Update 8/31/2019 8:00am:
There's been a notable change overnight to the forecast of Hurricane Dorian after Tuesday. The Category 4 storm is now expected to avoid making landfall in Florida and possibly make first contact on the South Carolina coast.
Original article:
A State of Emergency has just been declared for North Carolina due to the possible impact of Hurricane Dorian next week.
"As Hurricane Dorian approaches, North Carolina is under a state of emergency and our price gouging law is in effect," said Attorney General Josh Stein. "It is illegal to charge excessive prices during a state of emergency. If you see a business taking advantage of this storm, let my office know so we can hold them accountable and protect you from price gougers."
The National Hurricane Center just released the following public advisory:
Data from the NOAA Hurricane Hunters indicate that Dorian has
strengthened to an extremely dangerous category 4 hurricane with
maximum sustained winds near 130 mph (215 km/h).
According to Ventusky.com, the eye of Hurricane Dorian should hit the coast of North Carolina on the afternoon of Thursday, September 5th.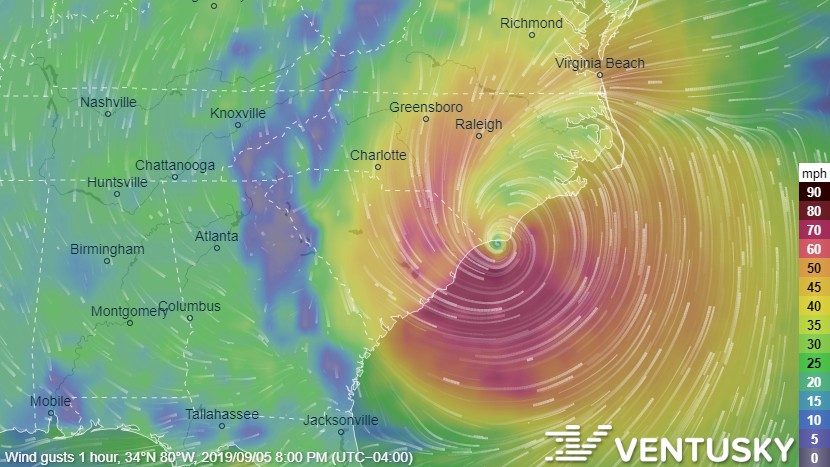 The National Hurricane Center is forecasting the storm to make initial impact near West Palm Beach, FL, then hug the coast until it reaches the Outer Banks of North Carolina next week.
North Carolina's Department of Emergency Management is recommending having emergency supplies ready before the storm hits.
Heading into the weekend, we are watching Hurricane #Dorian. Even though its forecast track directly impacts FL, it is always a good idea to be aware of storms and to stock up emergency kits. Keep an eye on our channels for updates and visit https://t.co/FJNQAdJCes for tips. pic.twitter.com/LPonoqq6cL

— NC Emergency Managem (@NCEmergency) August 30, 2019
In case of a power outage, make sure to have the following emergency items stocked in your home (available via 2-day shipping on Amazon.com if your local store has already been cleaned out);
We will continue to update this article as Tropical Storm Dorian develops. 
Comments
comments