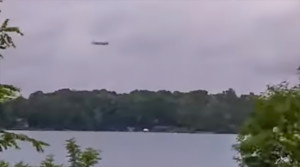 Earlier this year, Lake Norman resident Jason Swing filmed what he described as a UFO over Lake Norman on his cell phone and uploaded to YouTube.
Under the video Swing commented, "I was at work 2018 10:30 a.m it had been raining all morning. Rain finally stopped so we went w pick up a boat from lake norman.. When came around the corner I saw this thing sitting still very close.."
Last week, British tabloids The Daily Star did a full story on the video and this past Thursday, YouTube channel "The Hidden Underbelly 2.0" featured the video, which spread it to a wide array of conspiracy and UFO groups around the world.
It has since been viewed over 225,000 times;
Most people who commented under the video either thought it was a hoax, or confirmed their belief in alien space crafts visiting our planet. One commenter even noted that it might be a blimp, which might explain why the object appears to be hovering.
Trying to wrap my brain around this local ufo video, imagine being the guy

You see something as big as 2 747's
You video the ground, waking around
Occasionally th thing in the sky
Then after seeing a 'spaceship'
You 'gotta go'

🌞

— Brett Bumeter ll.m. (@brettbum) August 15, 2018
Conspiracy theorists also chimed in, saying that it was an experimental aircraft coming from one of North Carolina's multiple military bases (Pope Air Force Base, Camp Lejeune Marine Corps, or Fort Bragg Army Base). Other commenters pointed to the numerous other UFO sightings over Lake Norman since the lake was first created.
What do you think the UFO flying over Lake Norman was? 
Do you think it has anything to do with Normie, the Lake Norman Monster? 
Comments
comments