A major portion of Charlotte is now experiencing a Verizon Wireless outage, which could take up to 12 hours to resolve, according to the company.
At about 11 am this morning, several customers began complaining about outages around the airport.
Mecklenburg County EMS event sent out an alert telling residents to use non-Verizon phones to call 911, if needed;
Reports coming in from @VZWSupport about service disruptions in the Charlotte market. Please use non Verizon phone for 911.

— Mecklenburg EMS (@MecklenburgEMS) November 20, 2019
At about 1 pm, The Charlotte Douglas Airport announced that the source of the outage was a cut fiber line.
.@Verizon cell service at the terminal is down due to a cut fiber that feeds to the Airport's Beacon tower. Please select CLT Free WiFi to connect online. It is free and unlimited. Verizon is working to restore service. We apologize for the inconvenience.

— CLT Airport (@CLTAirport) November 20, 2019
Throughout the afternoon, the outages spread to several other sections of our city. As of 7:30pm this evening, this is what the outage map looks like for Verizon customers: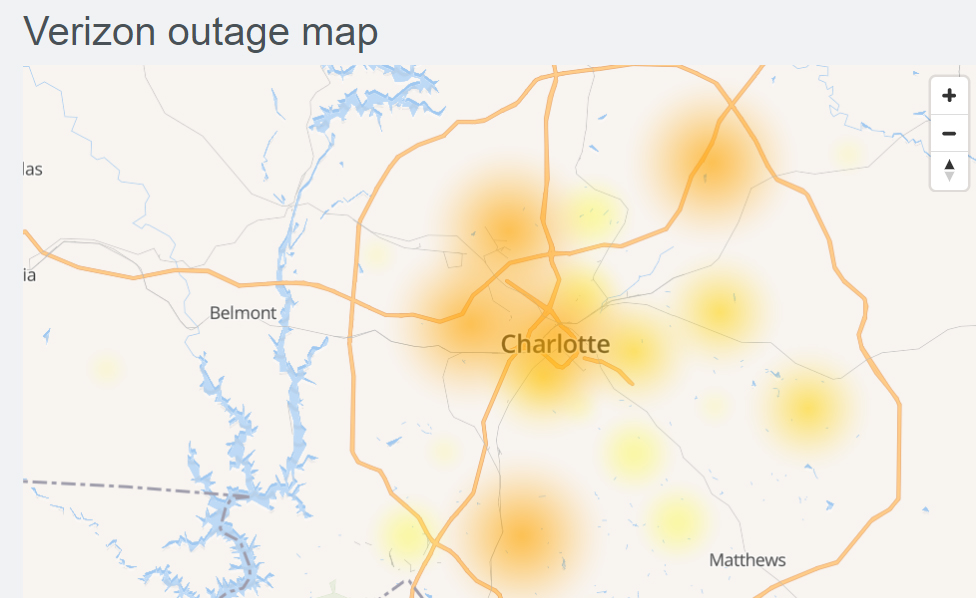 A growing number of people are now speculating that the outages could have something to do with the new 5G service that Verizon recently started testing around the Queen City, although we could not get confirmation of this from Verizon.
Verizon's new 5G network is capable of speeds up to 1 Gbps (gigabit per second), compared to 4G, which allows for speeds that are typically between 5 and 12 megabits per second (Mbps), or 50 Mbps at peak speeds. A gigabit is 1,000 times faster than a megabit, so the 5G network is potentially up to 20 times faster than 4G LTE at its fastest.
UPDATE 12/21/2019 12:00pm:
Verizon has now fixed most of the issues with their service around Charlotte, with a few small outage spots remaining;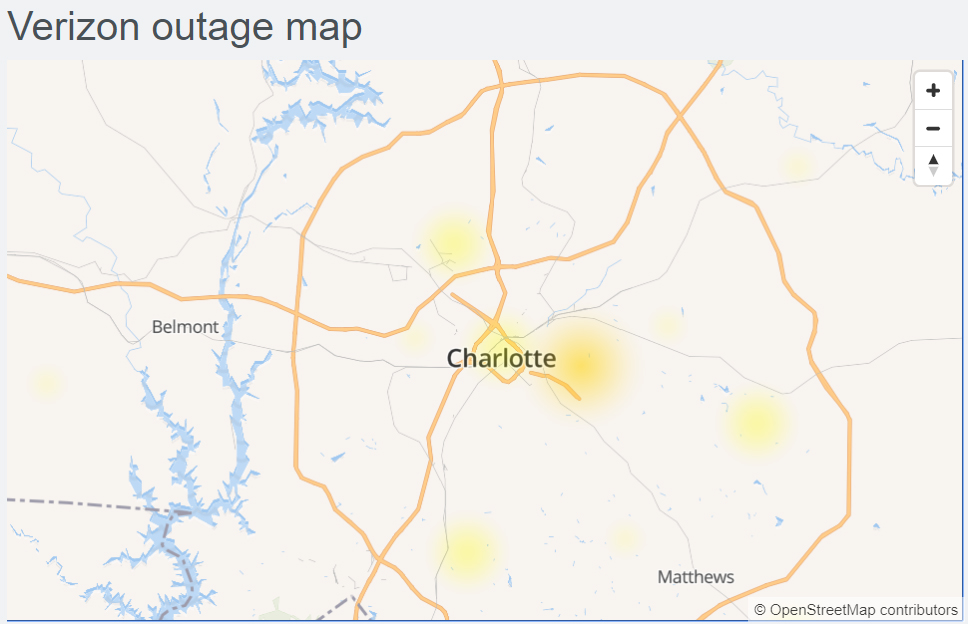 This is a developing story. We will update this article as new information comes in.
Comments
comments