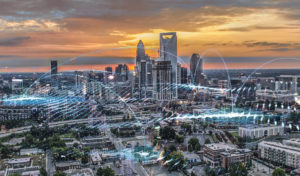 Charlotte city leaders are now pushing to make the Queen City the world's first fully integrated '5G Smart City'.
According to Verizon, the fifth generation of their wireless technology, or '5G', will allow much more advanced innovations, including; reliable self-driving cars, integrated city streets with automated traffic flow, as well as incredibly fast internet speeds.
The Consumer Technology Association recently reported that a person could download a two-hour movie in 3.6 seconds on a 5G network compared to 6 minutes on a 4G network or 26 hours on a 3G network. In a demonstration of a prototype 5G device, Verizon was able to transfer a gigabyte worth of data in just 17 seconds.
Earlier this week, Charlotte City Councilman and Fintech co-founder Tariq Bokhari showed how the new 5G technology could change driver safety if Charlotte becomes the world's first '5g Smart City';
Been working on a plan to make #CLT the first operational 5G smart city in the world. Driving along MLK uptown today, you can see here how the world of driving will transform. Safety, less congestion, and an entire 5G economy. pic.twitter.com/sAUeSfjflQ

— Tariq Scott Bokhari (@FinTechInnov8r) March 18, 2019
Charlotte city leaders are now working on federal grants to help possibly fund the historic upgrade.
What do you think about Charlotte becoming the world's first 5G city?
Comments
comments