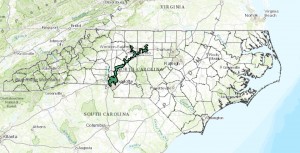 Today the U.S. Supreme Court ruled 5-4 in Rucho v. League of Women Voters of North Carolina that no fair test exists for courts to determine when partisan gerrymandering has gone too far.
"Today's decision is devastating to the voters in North Carolina who have lived with unconstitutional districts in the last four federal elections," said Janet Hoy, co-president of the League of Women Voters of North Carolina and a named plaintiff in the case. "While we were hopeful that the Court would set a standard to address extreme gerrymandering cases like ours, we will continue to work on getting fair maps for North Carolinians through other means."
In arguments, the League proposed a three-prong vote dilution test for determining when a partisan gerrymander has gone too far: clearly identifiable partisan intent on a per-district basis; with an effect that is district specific; and no legitimate purpose by a legislature.
The high court has yet to vote that an election map drawn for blatant partisan advantage is unconstitutional. Justices have continually reasoned that elected officials are expected to joust for power in that fashion, while courts should be reluctant to intercede.
Rucho v. League of Women Voters of North Carolina was consolidated with Rucho v. Common Cause, a companion challenge to the North Carolina legislature, as well as Benisek v. Lamone, a redistricting case out of Maryland.
Although the supreme court had not yet ruled against these types of gerrymandering cases, the plaintiffs were hoping this time things would be different. In relatively "purple" North Carolina, where President Barack Obama won in 2008 but lost in 2012, Republicans drew themselves a 10-3 advantage in Congress. In more liberal Maryland, Democrats gave their party a disproportionate, 7-1 majority.
What do you think about the high court's decision? 
Comments
comments