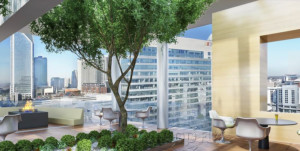 One of Charlotte's largest developers, Northwood Ravin (developers of The Vue, Providence Roe, and 4 other Charlotte projects), recently started on their latest development on Stonewall St. in Uptown.
It will be yet another new high-rise on what is quickly becoming Charlotte's most redeveloped streets ever.
"The Stonewall corridor will see unprecedented growth over the next several years, our team has worked hard to design a community that complements this high-profile gateway location," commented Northwood Ravin's VP Mike Wilson, in a recent press release.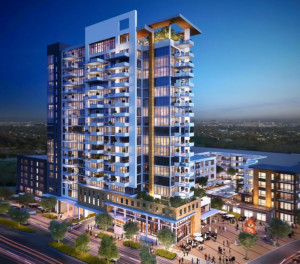 The new 20-story complex will include 421 medium-high priced apartments, an elevated pool, a dog park on the fourth floor, and one of our city's best new rooftop bars. The bar will be 1,850-square-foot of enclosed space, including the kitchen with another 1,950-square-feet of outdoor patio space.
The complex will also feature "central urban gardens" that will include seating areas, a feature fountain and a monumental staircase, as well as a full-sized golf simulator and sports facility.
The new development will also include over 6,400 square feet of shops and restaurants on the street level, and 11,000 square feet of office space.
What do you think of all the new projects being built in Charlotte? 
Which one is your favorite? 
Comments
comments