One of the largest circuses in the world (now that Ringling Bros has ended) is coming to Charlotte's old Eastland Mall site this summer.
The UniverSoul Circus, now in its 26th season, has built a massive tent at the site and will be performing high-flying and death-defying stunts for 13 days straight from Aug 21 – Sept 2.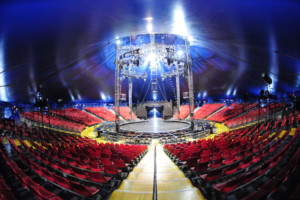 The show will feature viral sensations, The Fresh Clownsss, as well as the Mighty Motor Cycle Madness Biker Team, The Bone Breaking Contortionists, and plenty of roller skaters, elephants, teeter board and hand vaulting, zebras and camels, aerial silks, horses, and Caribbean dancers.
Ringmaster Lucky Malatsi and his sidekick extraordinaire Zeke will guide audience members through each show on an action-packed adventure.
Shows will run from August 21st through September 2nd at the former Eastland Mall site, at 5471 Central Avenue in Charlotte.
Tickets are on sale now at StubHub.com.
Comments
comments