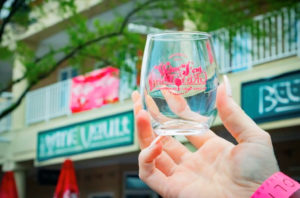 University City Partners is excited to announce the return of University City Wine Fest with a new Title Sponsor, Crescent Communities, for its fifth annual event this spring. Crescent Communities University City Wine Fest will take place from April 14-18 with five boutique style wine tastings and activities at multiple locations around the lake and boardwalk at Shoppes at University Place.
Presented by Extreme Property Services and Queen City Elite, the 2021 festival will extend the main event over two days to accommodate social distancing. From a limited capacity dining experience at a local chef's home to sipping wine on the water, all events will provide opportunities to sample a variety of wines in a safe environment.
"The annual wine festival is one of our most popular events in University City," said Darlene Heater, Executive Director of University City Partners. "The lake and boardwalk are the perfect backdrop for sipping wine, and our business owners in University City are great partners that help to create a full cultural experience. And, I am thrilled that Crescent Communities is joining as the title sponsor to support bringing these wonderful experiences to our community."
Crescent Communities University City Wine Fest was created to deliver a culturally enriching community experience in the Charlotte region. Activities will begin on Wednesday, April 14 with wine on the water and culminate on Sunday, April 18 with the second day of the signature event. The main events on Saturday and Sunday will feature over 50 different wines, ciders and craft brews. Attendees will have access to as many tastings as they can responsibly manage while enjoying live music. The festival is accessible by LYNX Blue Line at JW Clay Blvd Station.
"Our team is proud to sponsor this year's University City Wine Fest in support of the community and our local libraries," shared Brendan Pierce, President of Commercial at Crescent Communities. "This year's event times almost perfectly with the opening of our forthcoming University City office community, Escent Research Park, which completes construction in early April. It's an exciting month for us, and we can't think of a better way to celebrate than by supporting the University City Wine Fest and the area's continued growth as a cultural hub within Charlotte."
"With Crescent Communities' legacy of successful multifamily communities in the University area and the groundbreaking of NOVEL University Place happening this summer, we are thrilled to extend our partnership efforts in support of this remarkable event," shared Ben Watt, Marketing Director of Crescent Communities. "The annual festival has been a wonderful opportunity for us to interact with neighbors and guests alike, and we're honored to strengthen our commitment as the new title sponsor."
All 2021 Crescent Communities University City Wine Fest attendees are required to wear masks and follow social distance guidelines. Organizers will continue to monitor and adhere to Mecklenburg County and North Carolina health guidelines.
The full University City Wine schedule is as follows:
Wednesday, April 14, 6:00  and 7:30 p.m.
Wine Wednesday on the Water
The Shoppes at University Place
Thursday, April 15, 6 – 9 p.m.
Royal Wine and Dine Event
Home of Chef Lisa Brooks
Friday, April 16, 6:00 and 7:30 p.m.
Taste, Sip & Stroll 
The Shoppes at University Place
Saturday, April 17, 2 p.m.
5th Annual University City Wine Fest
Armored Cow Brewing
Sunday, April 18, 2 p.m.
5th Annual University City Wine Fest
Armored Cow Brewing
All proceeds from the Wine Fest will benefit literacy programming at Charlotte Mecklenburg University City Regional and Sugar Creek Libraries. See full list of sponsors here. Tickets are now available for purchase at universitycitywinefest.org. More information can be found on the website, Facebook and Instagram.
Comments
comments