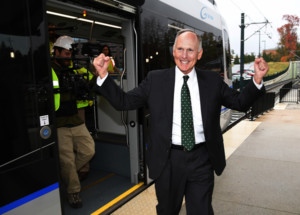 This past Wednesday, the Chancellor of the University of North Carolina at Charlotte Phil Dubois, along with several students, Charlotte elected officials, and CATS leaders took the first official test ride on the new LYNX Blue Line Extension, according to UNC Charlotte.
"This ride was only possible with the leadership and vision of more than three decades of work by our city, state and national leaders, as well as strong support from the community. We are thankful for their vision," said Dubois. "I was thrilled to ride the train with several of our student leaders. These students, and all students coming after them, will benefit greatly from the opportunities light rail brings to easily connect to the vibrant center of Charlotte, including access to businesses, social and cultural activities."
Earlier this year, UNCC student Nick Price decided to fly his Phantom drone the entire length of the new light rail line.
While it will take the average passenger 22 minutes to travel from Uptown Charlotte to UNCC, Nick was able to do it in just over 18 minutes with his drone:
The new line will feature a total of 11 stations and 4 large park-and-ride structures with over 3,100 total parking spaces (2 of them are directly across from UNCC on Tryon St.). It's now estimated that it will carry an average of 25,000 riders per day.
The LYNX Blue Line Extension is now scheduled to open in March of 2018. You can follow the continued progress here on the Extension's Update Facebook Page.
Comments
comments