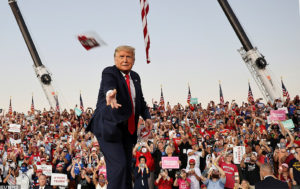 President Trump just announced plans to hold a massive rally in Gastonia next week, according to his website.
The rally will be held in newly constructed grandstands at the Gastonia Municipal Airport.
The event notes that gates will open at 4pm on Wednesday, October 21st, and the President is scheduled to speak at 7 pm.
The Gastonia Municipal Airport is located at 1030 Gaston Day Rd. in Gastonia, NC.
North Carolina just witnessed the highest number of Covid-19 cases in a single day for the past 2 days.
While the event does not mention masks or social distancing, North Carolina is still in Phase 3 restrictions. According to Executive Order 147, people must continue to wear cloth coverings over their mouth and nose when in public places where physical distancing is not possible.
Comments
comments