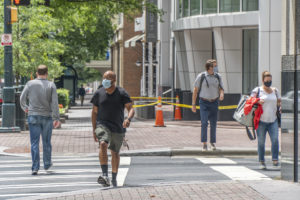 The State of North Carolina has just recorded the highest number of new Covid-19 cases in 1 day.
Yesterday, officials with the NC Department of Health and Human Services announced that there were a total of 2,532 new cases over a 24-hour period – the highest number our state has seen since the pandemic started.
We also saw an increase in the number of hospitalized, with a total of 1,140 Covid-19 patients currently undergoing treatment.
Here are the complete numbers from the past few weeks:
Yesterday, the governor of North Carolina, Roy Cooper held a press briefing to talk about the alarming surge in numbers.
"Recently, like much of the country and other parts of the world, we've seen higher numbers," said Governor Cooper. "It will be important to continue watching these numbers over a 14-day period. But one thing is clear – we must be even more vigilant in our effort to prevent the spread of this virus."
What else do you think should be done to help slow the spread?
Comments
comments