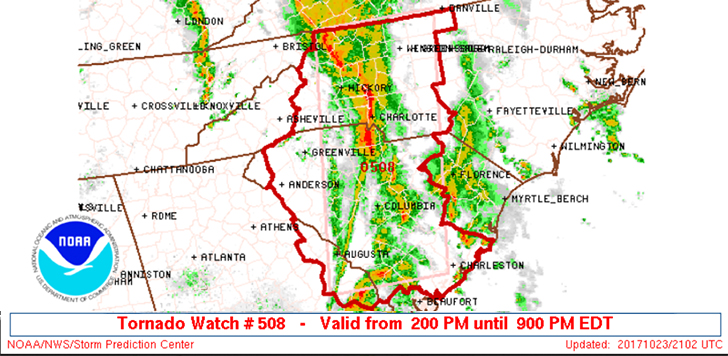 The National Weather Service has just issued a tornado watch for the greater Charlotte region.
According to the report released this afternoon, "Thunderstorms will intensify gradually this afternoon along and ahead of a cold front moving from Georgia into western South Carolina and North Carolina. The storm environment will be favorable for both supercells in the broken band of storms, and ahead of the band, as well as mesovortices embedded in the line. These circulations will be capable of producing a few tornadoes and damaging gusts through this evening.
The tornado watch area is approximately along and 60 statute miles east and west of a line from 50 miles northwest of Greensboro NC to 50 miles south southwest of Orangeburg SC."
The tornado warning is now in effect until 9pm this evening.
High winds and heavy rains will also make driving difficult this evening.
You know you're in #clt when it rains and everyone drives with their hazard lights on. pic.twitter.com/TnM3SeRYZj

— Ryan Petrosso (@rpetrosso) October 23, 2017
Stay indoors if at all possible.
Comments
comments