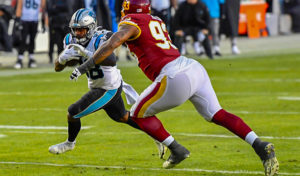 The NFL is probably the most popular sport in the United States of America, and its infamy bellows across the Atlantic and Pacific, with people watching the Super Bowl all over the world. 
We can't tell you exactly why it is so popular. Perhaps it's the NFL player props bets, maybe it's the half time Super Bowl show, or maybe it's just a fascination with how popular it got so fast? We don't know, but what we do know is players. 
While we are often focusing on quarterbacks, since they are often the most famous members of the team, we forget that other players are just as significant and tend to also be raking in the dollars just as well. 
So, what are the highest contracts signed by center players in the NFL?
Is An NFL Center A Good Position? 
If quarterbacks are the most important players in an NFL team, then Centers are the second most important. They are one of the more essential player positions in an NFL team. 
They are a part of the offensive lineup, and their duty is to make and call out reads to the quarterback, as well as including linebackers and also the defensive line up too. 
As well as the quarterback, the center player is seen as being a really crucial part of the offensive team, although they only get a tiny bit of attention in comparison to the infamy of the quarterback. 
Center players are big men, who have broad shoulders, able to bear a very heavy load in any game or play. 
What Does A Center Do?
At the beginning of each play, the center will snap the ball between their legs to the quarterback. If you think of any game you have watched you will recall this move being played. 
As well as this, during the play, they heavily guard the quarterback and provide blocking for running backs. 
They are basically protectors. They also deconstruct and study the game heavily, anticipating every move and looking into why particular actions may fail or succeed. 
This is because during the game play they need to make speedy decisions, as the defense of the opposition will be glaring at them, waiting for them to make a move. 
Since modern day NFL offensive teams are complicated, once the offense goes back to the sideline, the center is usually the one who works as a bridge between the offensive line's coach and other members. 
How Much Do Centers Make?
So, if you were playing this highly protective position in the NFL, what kind of paycheck could you expect? Well, pretty much every NFL active player needs to sign a contract for a single year at a minimum of $610,000! So, definitely enough to pay off a decent mortgage! 
The highest ever paid center made a whopping average of $13,500,000 each year! Which is an impressive amount for a center! 
The Highest Paid Centers
Okay, so we told you how much the average is for the highest paid NFL center in history, but who is it, and what are the 4 runners-up? 
There are many centers in the NFL, and have been countless over time, so we will take a look. 
However, before we do get into it, we want to remind you that while we often associate higher pay checks with people in the NFL who have been active the longest, this is not always the case. 
Sometimes, new blood that performs well can get a higher paycheck than a center-playing veteran of the game.
#1. Frank Ragnow
Frank Ragnow is a good example of what we just said. He is 25 years old, and he agreed to terms with the Lions on a 4-year contract for $54,000,000, with a whopping signing bonus of $6,000,000 and a guarantee of $42,000,000! Making his average yearly salary a beautiful $13,500,000. 
His base salary is $1,209,111 and his 2022 signing bonus of $6,000,000 has a cap hit of $4,070,954. This makes him the highest paid NFL center in history! 
#2. Corey Linsley
Then we have Corey Linsley. He is 30 years old playing for the Chargers on a 5-year contract which includes a signing bonus of $13,000,000, a guarantee of $26,000,000 and a yearly salary of $12,500,000. 
He is not all that far behind Raglow! 
#3. Ryan Kelly
Ryan Kelly is up next. He is 28 years old and signed a $50,000,000 contract with the Colts. He has $50,000,000 guaranteed and has an annual salary the same as Linsley at $12,500,000. 
#4. Mitch Morse
Mitch Morse signed up with the Bills for a 4-year contract. His contract sits at $44,500,000 with an $11,000,000 bonus and $26,175,000 guaranteed. 
His yearly salary is $11,125,000.
#5.
J.C. Tretter
Finally, we have Tretter. He signed with the Browns for three years for a $32,550,000 contract with a yearly salary at $10,850,000.
Comments
comments