This weekend is going to be truly incredible! There will be tons of food trucks, live music, and hopefully some world records broken!
Here are the top 10 things happening around the Charlotte region this Weekend;
Tens of thousands participate in global record attempt for World's Largest Swim Lesson to send the message Swimming Lessons Save Lives™ this coming Friday afternoon starting at 1:30pm in an attempt to break the Guinness World record for the largest swim lesson.
Charlotte Aquatics is serving as an official host location. 7835 Little Ave, Charlotte, NC
For more information click here.
This coming Saturday, the Charlotte Hounds will be taking on the Atlanta Blaze starting at 7:30pm at the American Legion Memorial Stadium.
For more information or for tickets to any of the games (starting at $26 each) click here.
This weekend's LEGO Quest2NINJAGO Obstacle Coarse event will take place in the parking lot of Toys"R"Us at 11300 Carolina Place Parkway in Pineville, on Saturday, June 25th, 2016, and Sunday, June 26th, from 10 a.m. to 5 p.m. It will feature a massive competition course, anchored by large-scale LEGO brick models of two of the playtheme's most popular characters, invites children ages 7-12 in teams of two to compete in eight timed physical and mental challenges.
The best team from Charlotte will be sent on an all-inclusive trip to LEGOLAND® California Resort to compete in the Finale.
Find out more info by clicking here.
This Saturday is the grand opening of one of the most highly anticipated new breweries in the Charlotte area – Blue Blaze Brewing Co. Their grand opening festivities will include tons of food trucks, live music, and games.
For more information check out their Twitter stream here.
This coming Friday (June 24th) Brantley Gilbert, Justin Moore & Colt Ford will be playing at the PNC Music Pavilion in Charlotte on their American Tour.
For more information or tickets click here.
The Unknown Brewing Company has partnered with Craft Growler Shop to bring live music, food trucks, and a movie on the big screen (this weekend they'll be airing 'Outlaw Josie Wales') to SouthEnd this coming Friday night at their main tap room (1327 South Mint St).
Family and dog friendly with craft beer and wine for sale outside.
For more info click here.
This coming Saturday from noon-4pm, Dogtopia will be hosting its 7th annual Charity Dog Wash, featuring raffle prizes, and much more while you get your dog a $15 bath. 100% of the proceeds raised will be donated to the Charlotte-Mecklenburg Police Department (CMPD) K9 Unit.
For more information on all the festivities click here.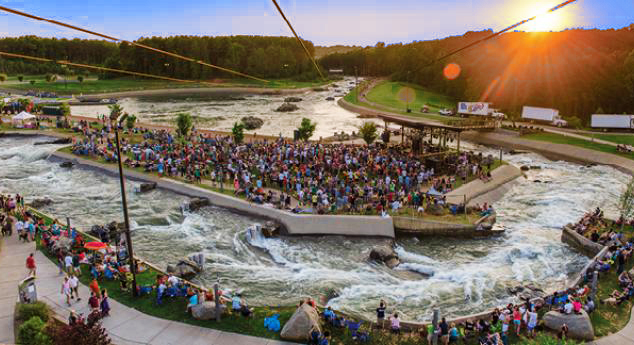 The U.S. National Whitewater River Center's popular Whitewater River Jams are free concerts take place every Thursday and Saturday evening through the end of September.
For more info click here.
Over 275 model train set tables will be setting up this weekend at the Metrolina Expo Center, Building One, 7100 Statesville Road. A blast for people that are into scales and model railwaying.
For more information click here.
Bring a blanket or lawn chair tonight (June 24th) to South End if you are a Star Wars fan (or if you haven't seen it yet). The movie will be free, as well as the popcorn and beverages. The courtyard will open at 8 p.m. and the movie will start at dusk.
If you think other events should be on this list or future lists, let us know – Scott@CharlotteStories.com
Please share;
[one_third]


[/one_third] [one_third]


[/one_third] [one_third_last]


[/one_third_last]
Comments
comments