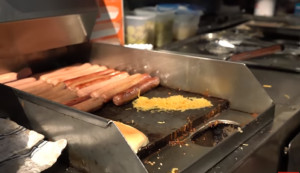 Charlotte's most popular food cart was just ranked by Yelp as making the best hot dog in America.
The restaurant-ranking website analyzed all their user reviews for hot dogs to determine what restaurant cooks up the best dog in the country.
The Chiliman came in first, topping Colorado's Harley's: A Hot Dog Revolution (#2) and T-Loc's Sonora Hot Dogs Austin, TX (#3).
According to Yelp, "In a sea of medocre street food, Chili Man stands out as a beacon for true street food loving citizens. Homemade chili, home spiced mustard, ketchup and mayo, homemade original recipe BBQ sauces and even specially made Taco Sauce makes good dogs great and great dogs a mind numbing experience. Stop by for the food, stay around for the stories and lunacy that comes free with your meal."
The Chiliman was also recently ranked as having the best hot dog in Charlotte, and the best overall restaurant in Charlotte (by user reviews on Yelp).
Charlotte Stories recently went Uptown to film Vic The Chiliman's epic 'opening day' experience (thanks to EndZoneFans for filming);
Not only did Vic launch the greatest hot dogs in the world, he has also started an incredible charity here in Charlotte to help out families with special needs children.
While Vic made the cart legendary, he recently retired from slinging dogs and passed the torch to his young protégé Josh, who has continued making the best and most unique hot dog creations in America.
Have you had the chance to taste the best hot dog in America? 
Comments
comments