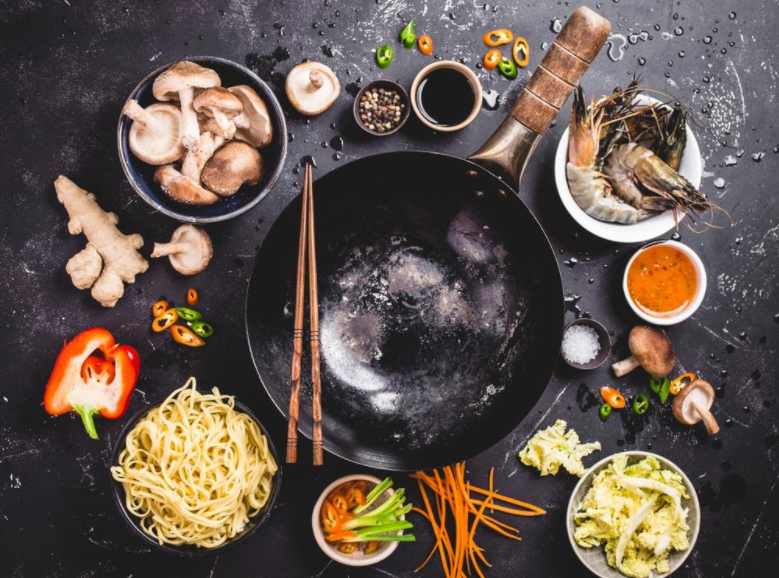 The Instant Pot has been something of a phenomenon. Decades ago, pressure cookers were very popular with busy moms. After the Second World War, pressure cookers came into their own with rationing, and fuel shortages making them the ideal appliance.
Somewhere along the way, their popularity dipped, especially after television dinners became a thing. However, some savvy designers decided the time was right for a revival and added some extra features. The result was the Instant Pot which has now spawned a raft of imitation multicookers, all useful in their own right.
When it comes to simple tips to make home cooking easier, a multicooker is hard to beat. Being able to cook a meal in one pot, with little fuss, and minimal effort is ideal for many.
2022 is drawing near and may be here by the time you read this. If you are thinking of getting a multicooker in the January sales, then you might be interested in what you could be using it for. 
What dishes should you cook in an Instant Pot in 2022?
Home cooking has gotten more popular over the last couple of years. The pandemic has definitely forced a rethink of how people eat, at least for some.
The trouble is that individuals live in different situations. Some are strapped for time, others for money. Some people want to lose weight, and others want healthy food but aren't worried about the calories as much. Some just want to be able to eat a tasty meal-for-one without resorting to takeouts.
Without knowing the personal tastes of every reader, it is difficult to recommend the best meals overall. Instead of trying to do that, here are some great meal ideas for different situations and individuals. 
Best Instant Pot midweek family meals
One of the hardest things for a family is to get together mid-week for a meal. The preparation and cooking time alone can be difficult to fit in after a full day at work. Plus the kids want to attend after-school activities or visit their friends.
One of the great benefits of multicookers is that they can cook slowly, as well as fast. This might not seem a plus until you realize that your family's dinner can be cooking away all day ready for when you all return. Even if you can't sit down together, there will be hot food ready for everyone when they want it.
Another bonus for Instant Pot owners is that there are huge lists of recipes from Corrie Cooks and other bloggers just waiting for you to discover. One recipe that works for slow cooking, and the whole family is vegetarian chili with beans and grains. 
Vegetarian chili with beans and grains
This recipe requires some preparation time in the morning before heading off to work but will mean that within ten minutes or so of being home, you will be ready to eat.
Combine the following into an Instant Pot:
2, 15-ounce cans of diced tomatoes
1 carrot chopped
1 onion chopped
1 bell pepper chopped
Chopped garlic (3 cloves or more)
Fresh chilies (optional)
3/4 cup wheat berries
3/4 cup water or vegetable broth
1 tbsp chili powder
2 tsp cumin
1 tsp ground coriander
Salt and pepper
Set the Instant Pot to cook for around 7.5 hours on low, or 5.5 on high in slow cooker mode. Feel free to revise how much seasoning you use and the spices. A small amount of cinnamon can give life to chili, and you may prefer more cumin. Cayenne pepper can add more heat, but chili powder has more depth.
When you return at night, stir in the following and cook for around 10 minutes:
15 ounce can kidney beans (drained)
15 ounce can black beans (drained)
Serve with grated cheese, sour cream, nachos, and guacamole, or any condiments you prefer including hot sauce. 
Best Instant Pot meals for slimmers
After the festive period, you may start to look at New Year's resolutions and want to lose some weight. This is a good time to do so, and there are great health benefits to gain.
The CDC reports the health benefits of losing just 5% of body fat can reduce the risk of many illnesses, and will also give you a boost in confidence. Luckily, the Instant Pot is perfect for making healthy meals.
Because the pot doesn't need oil to cook many dishes, and it cooks with steam, there are plenty of diet-friendly meals to be made.
Try searching for the following low fat, low calorie, tasty options:
Shrimp with broccoli

Lentil curry

Butternut squash soup

Smoked paprika chicken casserole

Chicken zoodle soup
This last entry is the perfect healthy, but a low-calorie meal for a slimmer. Instead of instant noodles, zucchini is cut into strips to make zoodles! Packed with flavor and healthy nutrients, but low in fat. 
Best Instant Pot meals for Valentine's Day
Instant Pots can be used for more decadent treats too, and what better place to be thinking about Valentine's? Only a few years back, Charlotte was ranked the fifth most romantic city in America, so you know there will be plenty of people wanting to cook a romantic meal for their partner in 2022.
How about chicken stuffed with asparagus? After all, asparagus is an aphrodisiac.
Chicken stuffed with asparagus
For this dish, you will need to butterfly and flatten two skinless chicken breasts, and then brine them for an hour.
Afterward, pat the breasts dry with some kitchen towel, then lay out uncooked bacon on a chopping board.
Lay the chicken on the bacon strips, and lay mozzarella, asparagus, and ham onto the breasts, and season. Roll tightly with the bacon on the outside and the asparagus, etc inside and pin together with toothpicks.
Add a cup of water to the Instant Pot, and place the chicken on top of a trivet. Cook for about 7 minutes with a natural release of 10 minutes after. The saute function can be used to brown and crisp up the bacon after.
Salmon also cooks very well in an Instant Pot, as do lobster tails which can be cooked with garlic and butter quickly and make a great starter for a romantic meal. 
Best Instant Pot meals for those cooking on a budget
One of the really good things about any pressure cooker is the ability to cook cheap ingredients and make them delicious. Some cuts of meat such as brisket are full of flavor, but they are tough and take a long time to cook.
However, they are very desirable to anyone who wants to eat well but stick to a budget. The problem with eating well on a budget is that it can often mean processed foods, and missing out on essential nutrients. Pressure cookers can help in this regard.
The Cleveland Clinic quotes a report from the Journal of Food Science regarding how pressure cooking retains more nutrients and vitamins and minerals. You can be safe in the knowledge that your food has at least been cooked with as many of the nutrients remaining as possible.
Try a chicken and vegetable, or just vegetable stew. The beauty of this is that you can use leftovers and experiment with whatever vegetables are on offer or discounted. You'll need salt and pepper, plus broth, garlic, and ideally some herbs. Nevertheless, you can prepare it whichever way you prefer. 
Best Instant Pot meals for singletons
One of the most straightforward things to make, especially on a cold winter's night, is baked potatoes. The Instant Pot can let you whip up some baked potatoes that can then be stuffed with whatever topping you like. A simple meal for someone with a smaller Instant Pot.
However, there are many dishes perfect for anyone cooking for one. Mac and cheese, spaghetti, and stew recipes are all perfect for small Instant Pots. As is popcorn when it's time for Netflix and a night in. 
Summary
The internet is awash with recipes for pressure cookers, and of course the Instant Pot in particular. If you are lucky enough to have a multicooker, then a quick search of the internet will bring up numerous resources for experienced and beginner cooks.
Perhaps the best thing about a multicooker, is that they can fit a number of lifestyles from busy moms and dads, to family get-togethers, those on a diet, and young couples. They can also provide healthy meals, but only if you put in healthy ingredients. But sometimes, only a cheesecake will do, right?
Comments
comments