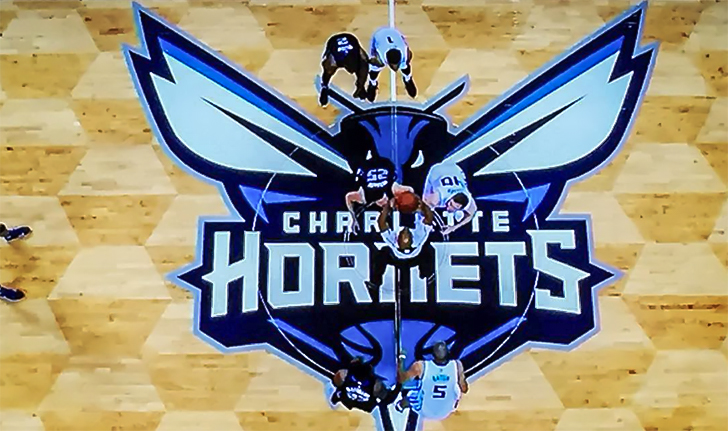 It's that time of year again: The Christmas trees are going up, decorations are appearing on front lawns and around the house, Santa is doing his best to visit every shopping mall in the country, and all store owners and ecommerce businesses are getting their websites Christmas-ready to prepare for the onslaught of holiday shoppers.
However, finding the perfect gift for a friend or loved one shouldn't be so difficult if they're a major NBA fan and, more specifically, a fan of the Charlotte Hornets. As we've already given some ideas for Panthers fans, it's time for basketball lovers to get some attention as well. Below, we'll list some cool present ideas, and show some of the worst gifts you could possibly give someone… you've been warned! Let's have a look.
Replica jersey
We love the new school Hornets, including Devonte' Graham, Miles Bridges, and Bismack Biyombo, but when you're getting a replica jersey, you've just got to go old school. The striped teal jerseys are practically known the world over and are still worn by the Hornets on occasion. There's no one better than Larry Johnson to show true fandom. The big power forward, along with Alonzo Mourning and Muggsy Bogues, really put Charlotte basketball on the map during the 90s. Plus, we have to admit that the new grey alternative jerseys are pretty dull. Any real Hornets fan will love an L.J jersey.
Buzz City t-shirt
Sometimes you just got to go simple but effective for a gift. This white and camo-print shirt looks awesome and the Buzz City slogan is something that not everyone will understand, but one that the true fans will definitely know. It's 100% cotton, too, so you can be comfortable while looking great.
Kids' t-shirt
Even your little ones can show their support for the Hornets! This cute shirt is emblazoned with arguably the league's best mascot, Hugo. The bubbly font and the dark blue color look great and we're sure that any kid would enjoy opening up the wrapping paper to find this on Christmas Day.
Giant Jenga game
This one is pretty weird. Support your team by watching it fall? We're not sure why a Jenga game really needs a Charlotte Hornets logo on it, but clearly someone thought it did. It's not the cheapest item in the store either, meaning you could get much cooler items for the same price. Somehow we can't imagine a Jenga game as the best thing to bring to the Spectrum Center to cheer on the team!
Doormat
We don't think you should wipe your feet all over your team's logo! We get that it instantly represents you as a major Hornets fan straight away to any visitor, but there's a time and a place for this sort of logo. Just get an ordinary doormat, or one with a team you really hate.
Comments
comments