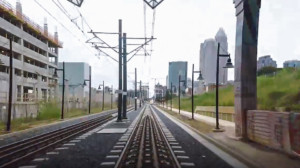 Sustain Charlotte launched a petition four days ago, which has already been signed by more than 400 people, urging Norfolk Southern CEO Mr. James Squires and North Carolina Railroad CEO Mr. Carl Warren to work with the Charlotte Area Transit System (CATS) to coordinate the use of the "O" Line rail corridor for the 25-mile LYNX Red Line commuter rail.
The petition can be viewed at www.sustaincharlotte.org/redlinepetition
When the 2030 Transit Plan was adopted by the Metropolitan Transit Commission in 2006, it was assumed that freight and passenger rail would share the existing track for the Red Line. Then in 2013, Norfolk Southern's Passenger Rail Policy was changed to no longer allow transit service on freight corridors including the "O" Line despite it being common for freight and passenger rail to share tracks in other parts of the country.
There are no good alternative alignments for building a separate line for commuter or light rail, as all of the possibilities adjacent to this corridor would be extremely expensive and disruptive to existing homes and businesses.
Some signers of the petition have added comments.  Here are just a few:
"I live in Huntersville and I would ride the [R]ed [L]ine if the service was acceptable."
"This has never been as important as it is right now!"
"This great project will not only help support and sustain growth in the region but affirm continued cooperation between Norfolk Southern and the City of Charlotte (CATS). In addition, it will alleviate traffic burdens along the I-77 corridor."
"We need this. This would make it so much easier for me to not have to drive to/from work and be in the car for hours."
"The Red Line is critical to the development of North Meck. The infrastructure is already there so it will probably be the cheapest line to develop out of the others. North Meck has been in a transportation desert for too long. Build the Red Line NOW!"
Comments
comments