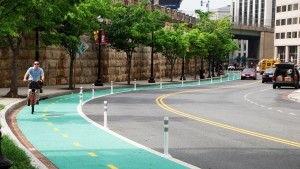 Sustain Charlotte is excited to announce that they are partnering with Charlotte Department of Transportation (CDOT), Charlotte Center City Partners (CCCP), Mecklenburg County Park and Rec, and dozens of citizen volunteers to install a two-mile protected bicycle lane spanning all of Uptown on the morning of October 22nd.
The lane, which will run along all of 6th Street and part of 5th Street, will be open for public use at noon, just in time for Sustain Charlotte's Biketoberfest, and remain in place for one week — until October 29th.
During the demonstration, CDOT will collect data and feedback from users to inform the design of a permanently protected bicycle lane on these streets.In March of 2016, Sustain Charlotte launched a campaign to show public support for safer, and more connected bike facilities so people of all ages and abilities can get where they need to go by bike. To get started, they created a petition asking the City for a protected bike lane through Uptown Charlotte, connecting Irwin Creek Greenway and Little Sugar Creek Greenway.  Community support was swift, with more than 4,000 people signing the petition in the two months.  This reflects the fact that 77% of Charlotteans worry about getting hit by a vehicle while biking according to a 2016 survey by The Urban Land Institute.
At around the same time, CDOT and CCCP hired a consultant to study how to make Uptown safer and more accessible for people on bikes.  One of the consultant's primary recommendations was a protected bike lane on 6th Street and part of 5th Street to connect the two greenways, which confirmed that this lane, as requested in Sustain Charlotte's petition, was both feasible and needed.
Sustain Charlotte is seeking volunteers to help install and paint the protected bike lane the morning of October 22. The installation will include creating a physical barrier between the bike lane and other travel lanes using planters, hay bales, and cones.  Volunteers will also help paint the lane with colorful designs near intersections and driveways to increase its visibility and to make the street itself more attractive and vibrant.  To sign up to volunteer and learn more about the project, visit sustaincharlotte.org/biketoberfest.
Comments
comments