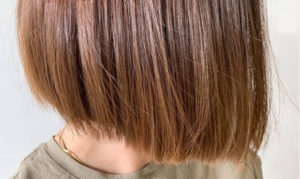 Revitalise Your Looks with These Short Hairstyles for Women
Many ladies want to cut their hair short but they are not sure how they would look after they cut it. Most don't know how to style their hair after cutting it and that makes things even more uncertain. However, one thing that they don't know is that there are unlimited short hairstyles for women that they can choose from. These haircuts make women more feminine and so you shouldn't be worried that by cutting your hair with hairdressing scissors you will lose your femininity. 
We have collected the latest styles for women with short hair that will rejuvenate your looks instantly. You will be surprised by how amazing and lively you would look when you decide to cut your hair and style it in one of these short hairstyles below. You cannot miss these amazing ideas for short hair. Take a look here.
The grey hair colour is trendy at the moment just like a choppy bob short hairstyle; more young women are opting for grey hair with white hues. Notable celebrities who have inspired this look include Queen Elsa. Sometimes individuals are inspired by their grandmothers, but the ultra-light hair is very trendy at the moment; thus, the increase in numbers of people rocking this haircut.
If you have thick hair this style is suitable for you; the cut will give your hair a lighter look adding glam to your voluminous hair. You can choose the blonde hues added to the choppy sections that create the illusion of weightlessness. This hairstyle is perfect for anyone who feels that they are buried in their hair as it will bring out their beautiful facial features.
The short hairstyle is the kind that you can wake up and go with little effort, unlike the long hair that requires lengthy combing and styling. The hair has bitty close layers, to achieve the best look one should work with the natural hair texture to create a post-shower definition. Moreover, you can add more drama with colours and hues that bring out your personality and sense of taste. Also Read: Check the best hair cutting shears
Straight Cut Bob with Finely Chopped Layers
The haircut is the most ideal for women with short locks as it is straightforward and sassy. The straight bob cut can create a softer and natural looking appearance, with the help of a hairdresser you can achieve this look effortlessly. To add the style, you can colour it with different hues that bring out your personality and your vibrant nature.
Choppy Pastel Burgundy Hair
Choppy short hairstyles are very beautiful when incorporated with multi-tonal colour such as part pastel and full-saturation. The burgundy hair creates berry hues that add a little fantasy to your hair. You should carefully pick the hues that o well with your skin, eye colour and the rest of your wardrobe. 
Messy Choppy Bob for Fine Hair
Fine hair will look much thicker with a choppy haircut. However, a blonde hair colour that ranges from extreme dark tones to lighter tones helps create a sense of texture. Messy styling helps your thin hair to look thicker. To achieve this look, you can take it out after the hair is completely dry as it will help you to increase the volume of your hair.
Thick hair when cutting into a pixie looks great, especially when highlights are added, older women do look young with this hairstyle. They can remove the golden tones from their blonde hair by getting the highlights to a little bit close to the glory, which helps them achieve a natural look without actually going grey.
This is the simplest hairstyle; the tousled look is sexy and very relevant for women of all ages. The pixie haircut does not require one to get too short haircut instead creates a line cut with fun layers that work for both thick and thin hair. Add some colour to bring out some drama and class, leaving you pretty and stunning. A ridiculously cute hairstyle to try this year!
Comments
comments