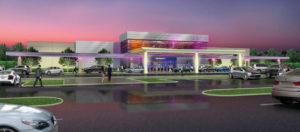 The year 2020 may go down as one of the most memorable in history, yet the surprising news has not stopped. In a landmark event, the House of North Carolina has endorsed a bill that enables off-track horse and sports betting with Native American Casinos. The bill was passed 90-27, meaning that the vast majority were in support. The only thing missing from making this a reality is the final stamp of approval from Governor Ray Cooper – but that seems like a mere formality. 
However, for now there is only one legal casino operator in North Carolina – Eastern Band of Cherokee Indians – who operate two casinos. The most notable part of the bill is that only in-person bets can be made within the casino. 
More on the horizon
As much as the bill sailed through the House, it was a long journey for the Tribe to get to this part. The Tribe, based in South Carolina, has lobbied that part of their ancestral land spans over into North Carolina and they therefore have rights to operate land-based casinos on that land in the adjoining state. The land in question is situated in Cleveland County and there are plans to build a casino, as well as a resort, on King's Mountain.  
The Department of Interior has already given permission for the Catawbas to use land in North Carolina for their proposed casino. However, this has been challenged by the Eastern Band of Cherokee Indians who currently operate two casinos in the state.
A big money-spinner
There are often questions around how much revenue a casino on ancestral land will generate, and how much the income would actually help the community itself. Casinos, especially physical casinos and CasinoChan, require a massive capital investment, as well as additional infrastructure in order to properly cater to visitors. However, if the bill is passed, it is estimated to be a big revenue driver not only for the state but also for the areas in which the casinos operate. Kevin Corbin (R-Macon) estimates that the tribe will rake in over $14m per annum, which equates to $1m in state taxes – a great result for the economy that has been ravaged by the pandemic.
However, any license granted would require an agreement around what games may be offered to players and how much revenue this will generate for the state – keeping in mind that this agreement would need to be mutually beneficial so that there is enough to attract players to the casino in order to generate the income needed. Any agreement would need authorisation from the US Department of Interior, as well as input from the public.
The rise of unlicensed casinos
The Covid19 pandemic saw a surge in online casinos as players sought safer ways to partake in their preferred casino games. As the infection numbers surged, players found it more appealing to just play from their homes. This obviously had a massive effect on land-based casinos who rely on foot traffic – not only for the casinos but for the complementary retail and hospitality industry based in and around the casinos. 
As much as online casinos do generate billions of dollars in taxes for the government, the surge in online casinos over the pandemic period in turn led to the establishment of many unlicensed online casinos who do not pay taxes of any kind. This removes much-needed tax revenue that could be used to augment government expenditure on tax relief, healthcare and job creation initiatives.
Competing in a digital age
If and when the casino project is given the green light by the Governor, this project could take a huge chunk of revenue from unlicensed online casinos operating in the US. However, the new casino and resort would have to take special care to market their destination with a point of difference. 
Over the past year, many players who would ordinarily have preferred the physical aspect of visiting a land-based casino have had to switch to the online digital format. There is a chance that some of these players now prefer the convenience of online play and it will take some shift in mindset to get them back into physical casinos.
Online casinos have an edge in the fact that their overheads are much lower than physical casinos in the form of infrastructure, staff, utilities and wastage. This allows online casinos to often offer very lucrative signup bonuses and jackpots as the money saved on physical costs can be redirected into prizes and marketing. 
Community upliftment
The proposed casino and resort will need anywhere between $270m and $600m investment in order to complete development. However, the spill-over will be that it will create in excess of 5,000 direct and indirect jobs for the community and bring in much-needed spend from the surrounding areas. 
An interesting road ahead
Nobody is quite sure what effect the pandemic will have on the future of land-based casinos, but as life starts to normalise with the introduction of viable vaccines, it is only human nature that players will once again seek the physical attributes of these casinos and resorts. Only time will tell if the old business model is still viable or if physical casinos may need to innovate even more in order to remain competitive in an increasingly digital world. 
Comments
comments