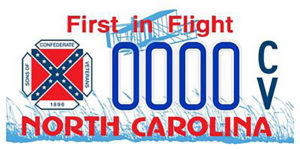 The North Carolina Sons of Confederate Veterans is taking the North Carolina DMV to court after the DMV decided to no longer produce license plates with the confederate flag on them.
The DMV made the decision to halt production on confederate flag plates starting January 1st of this year, saying:
"Effective January 1, 2021, the Division of Motor Vehicles will no longer issue or renew specialty license plates bearing the Confederate battle flag or any variation of that flag. The Division of Motor Vehicles (DMV) has determined that license plates bearing the Confederate battle flag have the potential to offend those who view them. We have therefore concluded that display of the Confederate battle flag is inappropriate for display on specialty license plates, which remain property of the state."
According to a press release from the Office of The Commander of The North Carolina Sons of Confederate Veterans, R. Kevin Stone:
"We are legitimately entitled to use our group's official emblem. The Confederate Battle Flag is a symbol of our heritage. Symbols can often have more than one meaning. To assume the Confederate Battle Flag is uniquely offensive is to validate only one viewpoint and thereby discriminate against others.
This blatant discrimination by our government is often driven by an ignorance of our state's real history and a deep hatred for our inheritance as Southerners. It is largely driven by racist organizations and intolerant politicians who would condone violence and hatred against anyone or anything that doesn't conform to their way of thinking."
What do you think about the decision? 
Do you think the DMV should reinstate the confederate flag license plates?
Comments
comments