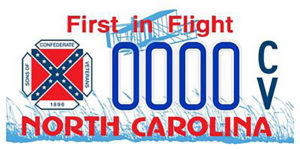 The North Carolina DMV has officially announced that they will no longer offer specialty license plates featuring the Confederate Battle Flag.
The decision came after an increasing number of complaints came in to the department regarding the pain and anger the symbol was inflicting on many NC residents.
The decision was made quietly before the start of the new year, and they have just now released a public statement about it:
"Effective January 1, 2021, the Division of Motor Vehicles will no longer issue or renew specialty license plates bearing the Confederate battle flag or any variation of that flag. The Division of Motor Vehicles (DMV) has determined that license plates bearing the Confederate battle flag have the potential to offend those who view them. We have therefore concluded that display of the Confederate battle flag is inappropriate for display on specialty license plates, which remain property of the state."
The confederate flag design was originally created at the request of the "Sons of Confederate Veterans" (SCV). According to the NCDMV, there are currently 2,527 active NC Licence Plates that feature the confederate flag emblem.
Today the North Carolina Sons of Confederate Veterans commander R. Kevin Stone released a public statement about the DMV's decision, saying:
"While our organization is misunderstood by some, we still have rights, and our members, North Carolina citizens, deserve equal treatment under North Carolina law. The NC-DMV has claimed that our civic group's legally registered logo may be offensive and is inappropriate for display. Make no mistake about this, we are a hereditary civic organization that takes great pride in our ancestry, our deep roots, our ethnic heritage, and our ancestor's sacrifices to the Southern States including North Carolina. This blatant discrimination by our government is being driven from ignorance of our State's true history by some and a deep hatred for native Southerners by others…"
What do you think about the decision? 
Comments
comments