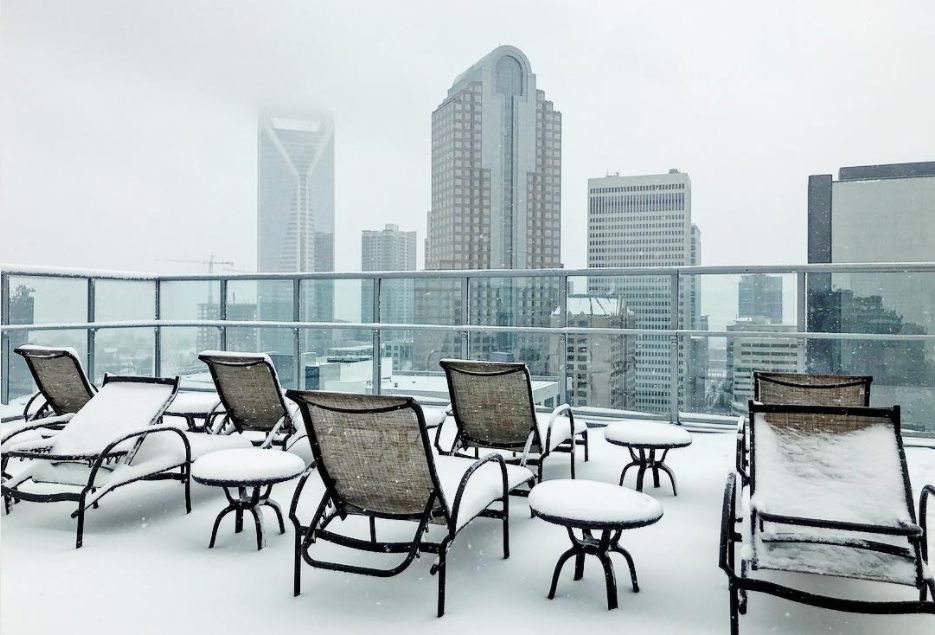 The Charlotte region is now bracing for what could become the largest snowstorm of the season.
As many stores see a depletion of their milk and bread, Charlotte airlines are now issuing travel alert, and several school systems have already shut down.
SNOMG! I haven't bought my bread & milk yet 🙄🤣

— Lori Halbeisen (@llahalb) February 19, 2020
Bread shelves already looking bare at the Lake Norman@Walmart
People are prepping for this tomorrow's winter storm. pic.twitter.com/bSmo0oLEs8

— Kevin Thoman (@kevthoman) February 20, 2020
The National Weather Service is now predicting over 3 inches of snow accumulation in some parts of Gaston and Lincoln Counties and over an inch in some parts of Charlotte:
Catawba County Schools, Hickory Public Schools, and Avery County Schools have already announced they will be closed on Thursday, Feb. 20, due to the snowstorm. Iredell-Statesville Schools will be operating an early release schedule, beginning with elementary students at 11 am, and Caldwell County Schools will release 3 hours early.
CMS released a statement about the snowstorm, saying:
"CMS will dismiss three hours early today due to the threat of severe weather and the potential of dangerous road conditions. All after-school activities, including athletics, ASEP, field trips and community use of schools are cancelled."
In addition to the snow, the National Weather Service is also warning residents around the Charlotte region about the danger of black ice that will begin to develop Thursday evening:
"Widespread black ice will likely develop
Thursday night through Friday morning as temperatures fall into the teens and 20s behind the storm.
Slow down and use caution while traveling.
Please report snow and ice accumulations by calling the National
Weather Service toll free at 1 800 267 8101. Leave a
message with your observation and the specific location where it
occurred. You can also post your report to National Weather
Service Greenville Spartanburg Facebook or tweet your report
using hashtag nwsgsp."
Friday morning, we'll see real temperatures around 25 degrees and the wind chill expected to dip below 20.
If you moved here from Ohio or New York (like myself), you may be rolling your eyes, but if you're from Florida or California, you might need to make some changes to prepare for the coming winter temperatures.
To prepare your car, top off all your fluids, especially your oil, power steering fluid, and antifreeze. You'll also want to check your tires and make sure your air pressure is over 32 PSI.
To prepare your home, make sure to drain all fountains and exterior water fixtures. Always let at least one of your faucets drip to avoid freezing pipes. Consider buying a humidifier if you're sensitive to dry air. If you have an older home with older windows, investing in some shrink film insulation will save you a ton on your heating bill.
To prepare yourself, buy some thermal gloves, a warm hat, and a winter jacket. If you're going to spend any length of time outside, you may even want to consider buying an electric heating jacket.
If you have a pet – make sure to read our article about how to keep your furry friend warm!
Comments
comments