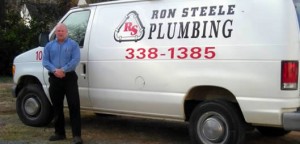 Ron Steele Plumbing is your local area plumbing expert!
Started in 1995, Ron has over 30 years experience and service Charlotte and the surrounding areas.
From small projects like a dripping faucet to full bathroom renovations, no plumbing job is too small or large at Ron Steele Plumbing! All work is completed to the very highest standards with only the finest quality materials used. And of course, we always do our professional best on every job and always at a great price!
When you call Ron Steele Plumbing of Charlotte NC, you get a company that delivers quality plumbing service, structured around your schedule! All our employees respect both you and your home, as if it were their own and it is required that all of our staff wear protective foot coverings, and upon the completion of every job, they must clean up the work area, and leave your home as it was found.
For more info or to contact Ron you can visit his website at RonSteelePlumbing.com
Comments
comments