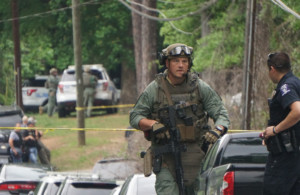 Over the past 24 hours, the Charlotte SWAT Team has been attempting to subdue an armed man who barricaded himself inside his SouthWest Charlotte home.
According to police, a number of agencies responded to a report of a man with a rifle in the Lions Gate community off South Tryon Street in SouthWest Charlotte yesterday afternoon. The Charlotte SWAT team was eventually called in and the entire neighborhood was barricaded while officers attempted to get the man inside the home to surrender.
At about 8:30am this morning, the man fired his rifle while officers were attempting to take the man into custody. No injuries have been reported from the shot.
CMPD, in accordance with CMS, is asking all students for the entire neighborhood of Lions Gate that typically get picked up by school buses to now be picked up at 2 locations:
1 – South Tryon and Lions mane Street
&
2 – South Tryon and Ewrin Road

— CMPD News (@CMPD) October 25, 2021
Local school students who live in the area are being asked to get on a bus at the intersection of South Tryon and Lions Mane Street.
This is an ongoing investigation.
Comments
comments