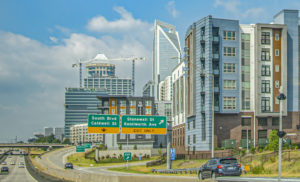 This month our national rent index jumped another 2.1%, a slight dip from August's 2.5% increase, but still pacing far ahead of the typical monthly growth from recent pre-pandemic years. With inflation concerns heating up, the national median rent has now increased by 13.8% in 2021, more than 3x the average growth rate of recent pre-pandemic years.
Rents are currently increasing in all of the nation's 100 largest cities, and there are now just 8 cities remaining where rents are still below pre-pandemic levels. This rapid rent growth is a symptom of 
record high demand
 clashing with historically tight vacancies.
Rents in Charlotte increased 2.7% month-over-month, compared to 2.1% nationally. Month-over-month growth in Charlotte ranks #34 among the nation's 100 largest cities.

Year-over-year rent growth in Charlotte currently stands at 16.3%, compared to -2.4% at this time last year.

Median rents in Charlotte currently stand at $1244 for a 1-bedroom apartment and $1390 for a two-bedroom.
Comments
comments