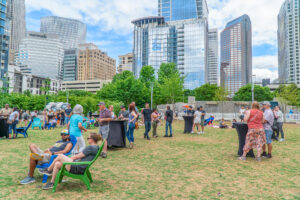 National prices sank another 0.8% in December, according to the latest data from Apartment List. The market cooldown remains widespread, with rents down in 90 of the nation's 100 largest cities this past month. National month-over-month rent change is plotted in the chart below, showing how this winter's price declines are steeper than those of previous years.
For the latest data, see the
January Rent Report
, complete with median rent and price growth data through the end of 2022. Some highlights below:
Rents in Charlotte decreased 0.8% month-over-month in December, compared to a 0.8% decrease nationally.

Year-over-year rent growth in Charlotte currently stands at 6%, compared to -0.5% at this time last year. Year-over-year growth in Charlotte ranks #20 fastest among the nation's 100 largest cities. Rents in Charlotte are up by 23.9% since the start of the pandemic in March 2020.

Median rents in Charlotte currently stand at $1319 for a 1-bedroom apartment and $1445 for a two-bedroom.
Comments
comments