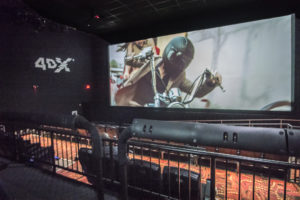 Regal has just announced plans to reopen all theaters at Stonecrest at Piper Glen this Friday, April 23.
Mortal Kombat from WB will headline new movies including The Unholy and Godzilla vs. Kong, along with a strong slate of highly-anticipated movies opening in the coming weeks including Spiral, A Quiet Place Part II and F9.
Reopening plans include a wide range of health and safety measures that adhere to the CinemaSafe protocol and guidelines.
Regal Stonecrest is one of the only 4dx theatres in America with screens displaying the movie in 3-D while the simulator seats, massagers, water jets, air pumps, and strobe lights adding a 4th dimension to the film.
(if you don't enjoy the occasional water blast to the face, the sprayers can be turned off)
Comments
comments