North Carolina's 9th district is holding a special election for their Republican nominee for Congress today.
The new primary election was announced this past February after The North Carolina State Board of Elections investigated voter fraud due to falsified absentee ballots.
If you are a Republican or independent living in the 9th district, you can find out the times and locations of your specific voting locations on the North Carolina's State Board of Elections website here.
There are a total of 10 candidates vying for the Republican spot, including;
Stony Rushing
Fern Shubert
Dan Bishop
Matthew Ridenhour
Gary Dunn
Kathie Day
Stevie Rivenbark
Leigh Brown
Chris Anglin
Albert Wiley Jr.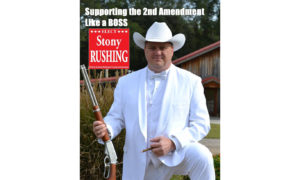 Stony Rushing became the front runner a few months ago when former nominee Mark Harris announced he would back him after former Governor Pat McCrory announced he would not run.
Democratic candidate Dan McCready is now running unopposed on the Democratic ticket.
The general election will be held on Sept. 10 if one of the Republican candidates collects over 30% of the votes today.
If no one tops 30%, a new primary will be held on Sept. 10th between the 2 top candidates and the general election will be rescheduled for November 5th.
Comments
comments