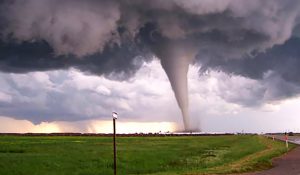 This past week President Donald Trump signed the Weather Research and Forecasting Innovation Act of 2017. The new bill could lead to Charlotte finally getting its own Doppler radar system to give advanced warning to residents of approaching tornadoes and other violent weather.
North Carolina Rep. Robert Pittenger, R-Charlotte, and Sen. Richard Burr, R-N.C., where two of the biggest proponents of the new law, demanding that the National Weather Service conducts a full-scale study into the weather radar gap in the Charlotte area.
"Because meteorologists lack consistent and reliable local radar data, NWS has actually missed tornadoes in Mecklenburg and Union counties," Pittenger commented in a recent public statement.
Residents were only given about an hour warning of the tornado that touched down in South Charlotte this past December, and this certainly wasn't the first time little to no warning was given.
The Charlotte metro area now has a total population of 2.4 million people, which is currently the largest metro area in the country without a Doppler radar system. Our closest Doppler system in Greer, SC (about 94 miles away).
Comments
comments