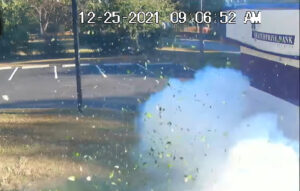 Police are now asking for the public's help in identifying and locating the suspect in a Christmas Day ATM pipe bombing.
According to the Charleston County Sheriff's Office, the incident took place at around 9am on Christmas day on South Carolina's Edisto Island. A disguised person placed what appears to be a pipe bomb at the door of a small building that housed an ATM, lit the fuse, and ran for cover. Once the bomb exploded, the perp was able to gain access to the building, but not to the ATM.
No money was stolen and no injuries have been reported.
Here is the surveillance footage to the attempted robbery:
According to police, the suspect is though to be male and was last seen wearing a wig, hooded camo jacket, blue jeans and tan boots. Witnesses who were in the area said he drove away in a dark-color hatchback, possibly an Audi, with a possible fishing rod sticker on the back window.
If you have any information about the suspect or his getaway vehicle, please call the Sheriff's Office at 843-202-1700 or dispatch after hours at 843-743-7200.
Comments
comments