A major winter cold front is now sweeping across the Carolinas, bringing historically low temperatures, frozen roads, and damaging wind gusts.
According to Duke Energy, the powerful front has already caused over 4,500 power outages across the Carolinas, knocking out power to over 160,000 residents so far.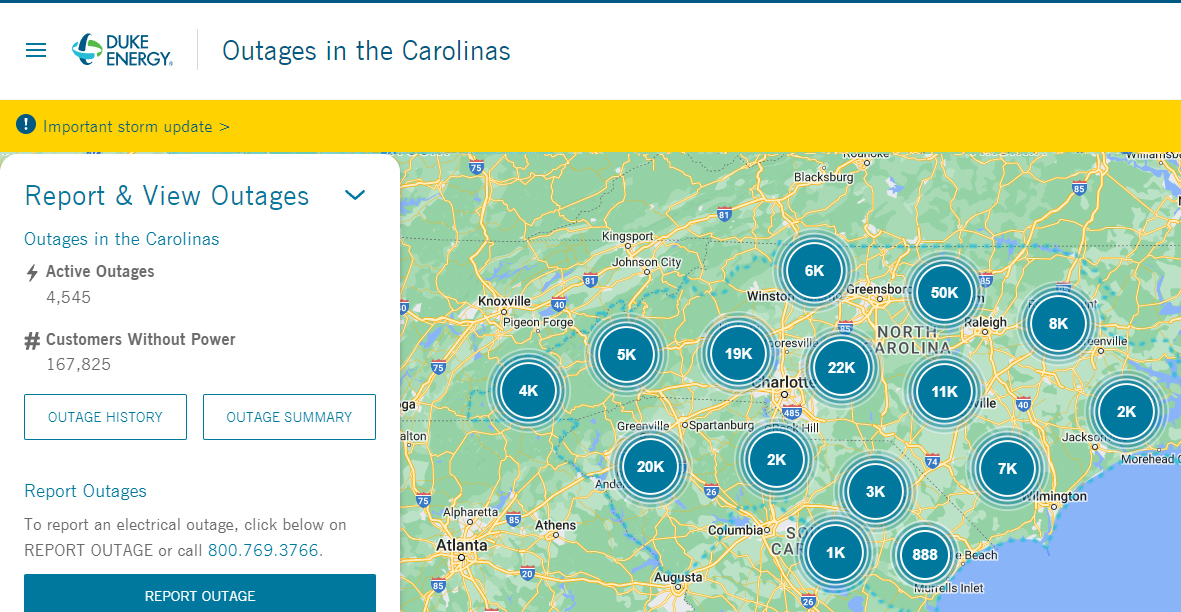 Extreme wind gusts as high as 62 MPH have already been recorded in Charlotte at the Bank of America stadium:
Here are the peak wind gusts so far as the arctic airmass filters in across the western Carolinas and northeast Georgia. #scwx #ncwx #gawx pic.twitter.com/FwCdEbBi2l

— NWS GSP (@NWSGSP) December 23, 2022
If your power goes out, here are some tips on how to stay warm:
We are getting numerous reports of power outages across the area. Check out the graphic below for tips on how to stay warm when the power is out. #scwx #ncwx #gawx pic.twitter.com/PpqceeHBha

— NWS GSP (@NWSGSP) December 23, 2022
North Carolina Emergency Management officials continues to urge residents to prepare for worsening winter conditions.
To prepare your car, top off all your fluids, especially your oil, power steering fluid, and antifreeze. You'll also want to check your tires and make sure your air pressure is over 32 PSI.
To prepare your home, make sure to drain all fountains and exterior water fixtures. Always let at least one of your faucets drip to avoid freezing pipes. Consider buying a humidifier if you're sensitive to dry air. If you have an older home with older windows, investing in some shrink film insulation will save you a ton on your heating bill.
To prepare yourself, buy some thermal gloves, a warm hat, and a winter jacket. If you're going to spend any length of time outside, you may even want to consider buying an electric heating jacket.
If you have a pet – make sure to read our article about how to keep your furry friend warm.
For more information on how to prepare for winter storms and other hazards that affect North Carolina, visit readync.gov
Comments
comments