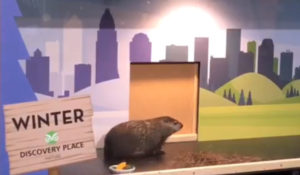 Will it be an early spring or should we gear up for six more weeks of winter?
Charlotte's Discovery Place Nature will once again kick off Groundhog Day with the official winter weather prediction for the Carolinas.
Tradition has it that if the groundhog sees its shadow on February 2 it will be frightened by it and will then return to its burrow, indicating that there will be 6 more weeks of winter. If it does not see its shadow, then spring is on the way.
Last year, Queen Charlotte saw her shadow and headed back into her burrow, signaling 6 more weeks of winter.
Here's the video of last year's Groundhog Day in Charlotte;
Queen Charlotte will give her royal prediction on Saturday, February 2 at 7 a.m.
Follow Charlotte Stories for the live announcement on Saturday Morning.
Comments
comments