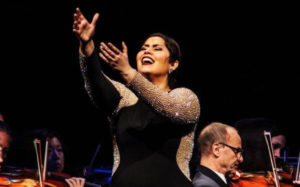 Opera Carolina's 2020/21 "Season of Action" has become the "Season of Innovation" in response to the challenges of the coronavirus pandemic. Opera Carolina proudly announces the launch of its latest innovation, the subscription-based Virtual Opera House (VOH), a custom-built platform that will elevate the opera art form and Opera Carolina to an audience spanning the globe. "Opera Carolina continues to flex our creative muscles with the launch of the new Virtual Opera House," said James Meena, Opera Carolina's Artistic Director. "The VOH will be the home for performances, youth and family programs, introductions to the great operas, and more. We are thrilled to advance the opera art form and to create a unified, accessible platform to reach both opera lovers and the opera curious across the globe."
"We've been asking the question of 'How can we expand our reach not only in the Charlotte community but regionally and nationally, as well?' for the past few years," said Megan Miller, Director of Marketing and the lead innovator for the VOH. "The VOH was the answer we needed. We are creating a new digital space in which artists perform and audiences explore opera through a series of newly produced performances for the screen."
New content will be created throughout the Opera season, with VOH subscribers being able to access the entire VOH catalog. A monthly online newsletter for subscribers, which will announce when new content is available and when exclusive content will be premiering, will launch in January 2021.
Subscriptions for the Virtual Opera House are $50 per year or $5/a month.
You can go to https://virtual.operacarolina.org/to learn more and subscribe.
Comments
comments