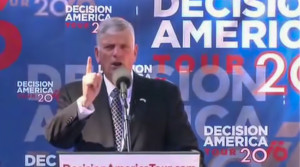 North Carolina's Franklin Graham, son of the legendary Evangelist Billy Graham, has just been selected to pray during Donald Trump's inauguration on January 20th at the US Capitol.
The head of the Charlotte-based Billy Graham Evangelistic Association will be joining several other speakers during Trump's swearing in, including: Cardinal Timothy Dolan, Rabbi Martin Hier, Bishop Wayne T. Jackson, the Rev. Samuel Rodriguez, and Pastor Paula White.
Billy Graham, Franklin's Charlotte-born father (who's childhood home is on display at The Billy Graham Library), said the inauguration prayer during Richard Nixon (in 1969), George H.W. Bush (in 1989) and Bill Clinton (in 1993 and 1997).
Franklin Graham has said it once before during George W. Bush's inauguration (Rick Warren prayed during Obama's Inauguration).
Franklin's first inauguration prayer for Bush Jr. in 2001 came under fire by Jews and Muslims when he used the name of Jesus, closing with, "We pray this in the name of the Father, and of the Son, the Lord Jesus Christ, and of the Holy Spirit."
Over the past year, Franklin traveled to every state capitol to hold prayer rallies prior to the election, calling it the 'Decision America Tour'.
Here's a video of his October rally in Raleigh:
How do you feel about North Carolina's Franklin Graham praying during Trump's inauguration?
Please comment below with your thoughts.
Comments
comments