NC Representative Kelly Alexander, Jr. has just introduced House Bill 994, which would radically revise North Carolina's criminal marijuana laws if passed.
HB 994 is officially entitled; "AN ACT TO INCREASE THE AMOUNT OF MARIJUANA THAT MAY BE LEGALLY POSSESSED FOR PERSONAL USE AND TO ALLOW FOR THE EXPUNCTION OF RECORDS RELATED TO CERTAIN CONVICTIONS FOR POSSESSION OF MARIJUANA."
The bill would essentially do 4 things if passed;
Remove all criminal penalties for possession of up to 4 ounces of Marijuana (currently possession of 1/2 ounce will result in a class 3 misdemeanor).
Reduce penalty for more than 4 ounces to a class 1 misdemeanor.
Increase amount required for a class 1 felony from 1.5 ounces to 16 ounces (1 lb).
Allow anyone with a prior conviction of possession of under 4 ounces to pay $100 fee and have their conviction expunged.
Last year, Rep. Alexander unsuccessfully tried to pass HB 185, North Carolina's "Medical Cannabis Act", which would have essentially allowed residents with qualifying conditions to legally possess and use marijuana. The bill was initially blocked by Chairman Representative David Lewis (District 53) and it eventually stalled in the House.
Marijuana is currently listed on the federal books as a Schedule I Drug, meaning it has "no medical value," but there are now a total of 30 states and the District of Columbia who have laws broadly legalizing marijuana in some form;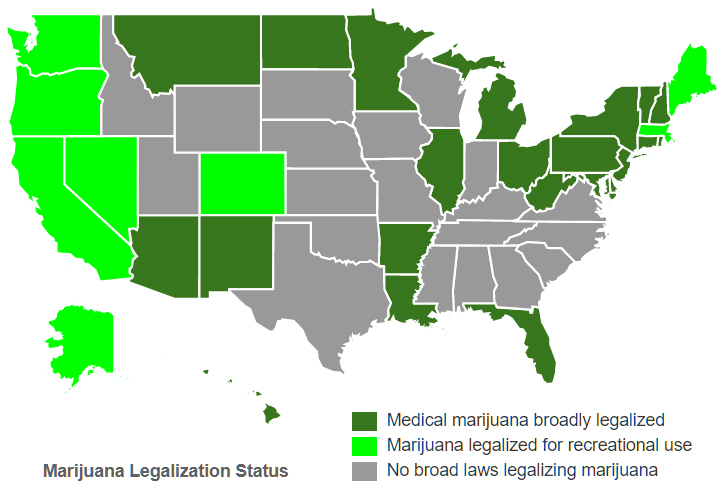 A 2017 Elon Poll showed 80 percent of North Carolina voters are in favor of medical marijuana, however, some NC Democrats, and most NC Republicans are still fearful of how voting yes on marijuana would appear to voters.
If you'd like to contact your local representative and tell them to either vote for or against HB 994, you can find their contact information here;
NC House of Representatives: https://www.ncleg.net/gascripts/members/memberlist.pl?sChamber=House
NC Senate: https://www.ncleg.net/gascripts/members/memberList.pl?sChamber=senate
What do you think of North Carolina's new marijuana decriminalization bill? 
Comments
comments