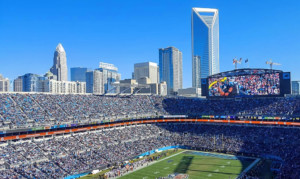 This past Tuesday, we reported that key leaders are now considering building a new Panthers stadium near Carowinds, on the border of North and South Carolina.
Most of the comments we received were negative, with the majority of our readers wanting the stadium to remain in the heart of our city.
One Panthers fan has now taken action to try to stop the move with an online petition.
In the petition, Inezmarie Graci talks about how the central location of the Panthers stadium is crucial for the energy, excitement, and loyalty of fans. "When I attended my first game at Bank of America Stadium I was amazed at how easily accessible it was for fans to get to, and the amazing spirit of all of those fans lining the streets of the city they loved celebrating and getting ready to cheer their team on," Graci notes.
If the petition receives at least 500 signatures, it will be delivered to;
North Carolina Governor
Vi Lyles
Bruton Smith
Carolina Panthers
Brian France
Felix Sabates
It reminds city leaders and future owners that, "we are one of very few NFL teams who have their stadium right in the heart of the city.  Moving the stadium down to the North/South Carolina border just so there could be extra parking would ruin the uniqueness that Charlotte is known for.  Fans would not be able to have easy access to attend games, and Charlotte as whole would suffer, not only impacting the fans but also local businesses. Think how much better the city is now that the Charlotte Knights have moved uptown!"
You can read more or sign the petition here.
What do you think about the possibility of moving the Panthers stadium outside of Uptown Charlotte? 
Comments
comments