New York Based ATCO Properties recently purchased 75 acres of historic warehouse space, just north of Center City. The firm has now submitted a rezoning petition for would be the largest mixed-use development our city has seen in decades.
Their development proposal includes 1.5 million square feet of office space (Duke Energy's "handlebar" skyscraper is about 1.3 million square feet); 1,500 apartments (The Vue has 409 apartments); 200,000 square feet of retail (Atherton Mills has about 100,000 square feet of retail); 80,000 square feet of eating, drinking and entertainment establishments (enough for about 12 new restaurants and bars); and 65,000 square feet of light industrial uses.
The family-owned ATCO Properties & Management Company has quietly purchased large deeds of land between Statesville Rd and N. Graham St. over the past year, including; 1701 N. Graham St., 1801 Statesville Ave., 901 Woodward St. and 9210 Woodward St., 1776 Statesville Ave. for a total of $16.9 million, according to Mecklenburg County tax records: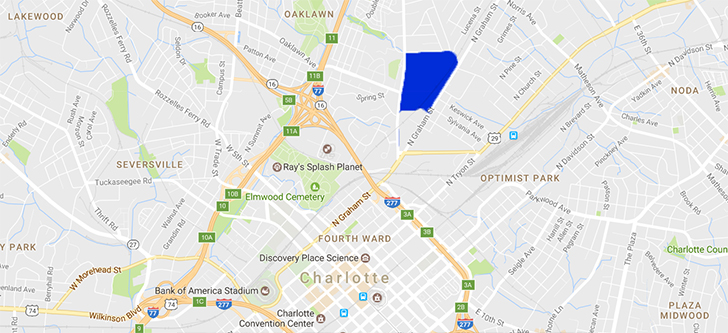 The properties currently sit in Charlotte's 'applied innovation corridor', according to its 2020 Vision Plan, identifying that part of town to be focused on tech firms and new startup companies.
ATCO has called the new development 'Camp North End', and in keeping with the city's 2020 plan, the development will include dedicated space for tech start-ups and many adaptive-use aspects.
What do you think about the new 'Camp North End' development?
Comments
comments